A Laotian American Writers Festival? I've written about this before, but it bears mentioning again.
For over 10 years, the Chicano and Latino Writers Festival featured local and national writers through support from the Friends of the St. Paul Public Libraries in Minnesota and others in the Twin Cities. This makes me wonder what a Laotian American Writer's Festival would look like.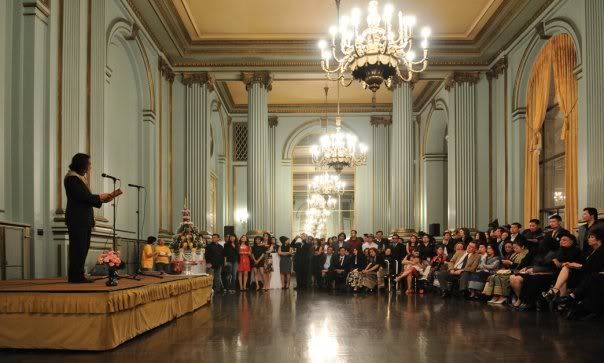 We've been setting up a Laotian American Writer's Summit in Minnesota for a while now, but funding and schedules have been consistently conflicting for many of us. I hope in 2010 that will improve.
But who would we invite? In the US we have so many who would be good candidates, ranging from current figures such as
Phayvanh Luekhamhan
,
Catzie Vilayphonh
,
Saymoukda Vongsay
,
Dr. Bounsang Khamkeo
,
Soudary Kittivong-Greenbaum
,
TC Huo
,
Kongkeo Saycocie
,
Ova Saopeng
and other writers from the
SatJaDham
network.
Khampheng Manirath
, a traditional story teller from Laos currently lives in Iowa, and would potentially bring much to a festival.
Abroad, a short-list of Lao writers to consider includes:
Souvankham Thammavongsa
of Canada would also be another fine writer to invite- she's even the subject of a short film,
Found
.
Douangdeuane Viravong
s, the daughter of the late Maha Sila Viravongs and widow of short story writer Outhine Bounyavong. She has published various poems and novels and transcribed numerous traditional stories, of which the best-known is Kam Pha Phi Noi ('The Little Orphan and the Spirit'). She runs the family bookshop/publishing house Dokked Publishing in Vientiane and maintains the Maha Sila Viravongs Library, an important repository of rare books and documents.
Dr. Thongkham Onemanisone
is the founder of the Lao Writer's Association. He is the first Lao writer to receive the prestigious SEAWrite Award in 1998 for his work Pheua Hak Pheua Nang ('For Love for Her'). Dr. Thongkham's numerous other works include Phoum Pannya Sisawat ('Sisawat's Wisdom', 1997), Nithan Suphasit ('39 Moral Tales', 1997), Dhamma's Path Poems (2000), The Memory of SEAWrite Award Poems (2003) and Sharp, Decisive, Hot and Salty Poems (2004); the Lao Language Dictionary (1992) and Lao Language: Terms and Meanings (1997) and numerous poems and articles for daily newspapers and magazines.
The novelists
Phieu Lavanh
(b 1954),
Bounseun Songmany
(b 1956) and
Damdouane Pomdouangsi
(b 1958) are also frequently acknowledged as key writers, but curiously there are few extended details about their lives and work.
Several years ago, poet
Thongbay Photisane
visited the US as part of the University of Iowa's International Writer's Program. At the time, he directed and edited the only monthly literary magazine in Laos, and served as second secretary of the Lao Writer's Association, editing its newsletter. He was the author of the short stories "The Life of Love," "The Love of the Luang Prabang Song," "Life and Family" and "Song of Man," which have appeared in Vannasin magazine, the monthly publication of the Lao Ministry of Information and Culture; these were also published as a book.
From the Hmong community, prominent writers would include
Kao Kaliya Yang
, award-winning author of
The Latehomecomer
,
Mai Neng Moua
, the editor of
Bamboo Among the Oaks
, writer
May Lee Yang, Katie Ka Vang
,
Pacyinz Lyfoung a
nd the members of the Fresno-based
Hmong American Writer's Circle
or contributors to the
Paj Ntaub Voice
Hmoob literary journal.
Dr. Dia Cha
author of
Folk Tales of the Hmong
and
Dia's Story Cloth
,
Dr. Gary Yia Lee
, author of Dust of Life, and
Houa Vue Moua
, the author of
Trails Through The Mist
also deserve strong consideration.
Dr. Lue Vang
's
Grandmother's Path, Grandfather's Way
is also a particular classic. I'd also certainly enjoy a festival featuring
Soul Vang
and
Pos Moua
, the author of
Where the Torches Are Burning.
Frankly, you can just take a look through the inventory of the
Hmong ABC Bookstore
,
an entire bookstore
dedicated to the work of writers of Hmong and Lao heritage and find a trove of fine speakers and participants.
As always, no list is going to be complete and comprehensive. But I'd love to hear your suggestions about who would make great writers to add to a festival of Laotian American writers. It's promising that in the last few years we've seen a particular upswing in the number of books available where we could consider such festivals viable. I look forward to the day we actually have one, which will hopefully be very soon!