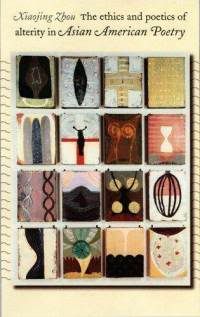 Around 2006,
The Ethics and Poetics of Alterity in Asian American Poetry
had this long-winded pitch:
"Poetry by Asian American writers has had a significant impact on the landscape of contemporary American poetry, and a book-length critical treatment of Asian American poetry is long overdue. In this groundbreaking book, Xiaojing Zhou demonstrates how many Asian American poets transform the conventional "I" of lyric poetry - based on the traditional Western concept of the self and the Cartesian "I" - to enact a more ethical relationship between the "I" and its others. Drawing on Emmanuel Levinas's idea of the ethics of alterity - which argues that an ethical relation to the other is one that acknowledges the irreducibility of otherness - Zhou offers a reconceptualization of both self and other. Taking difference as a source of creativity and turning it into a form of resistance and a critical intervention, Asian American poets engage with broader issues than the merely poetic. They confront social injustice against the other and call critical attention to a concept of otherness which differs fundamentally from that underlying racism, sexism, and colonialism. By locating the ethical and political questions of otherness in language, discourse, aesthetics, and everyday encounters, Asian American poets help advance critical studies in race, gender, and popular culture as well as in poetry. "The Ethics and Poetics of Alterity" is not limited, however, to literary studies: it is an invaluable response to the questions raised by increasingly globalized encounters across many kinds of boundaries."
Lao American poets like Catzie Vilayphonh and Saymoukda Vongsay, and many of the writers from the SatJaDham Lao Literary project have pieces that would definitely support Zhou's thesis.
Catzie's "I'm A Woman, Not A Flava," and Saymoukda's "When Everything Was Everything," are key examples of the idea that when Lao American poets write poetry, their "I" is also one that is fully in identification with communities conceived of as 'the Other' and as a means of resisting racism, sexism and colonialism.
There are many Lao American poets who are not engaged with poetics merely to make pretty poems. There are some who do, but even among the older Lao American poets I run into, their work definitely tends to shape itself as a resistance to obliteration and wholesale assimilation. There's very little jingoism or naivete.

I could easily turn to the poems of Kongkeo Saycocie or Phayvanh Luekhamhan's "Try This" and find many works of theirs that underscore Xiaojing Zhou's arguments. Even Lao American updates of poems about the folkhero Xieng Mieng have a vein of social commentary within them that addresses concerns about alterity.
Do we locate the ethical and political questions of otherness in language, discourse, aesthetics and everyday encounters?

I would say there are definitely many examples among the Lao American poets. And their work advances many critical studies in race, gender, and popular culture. Now, the hard part is: Is this a good thing?

Are we, -must we-, contribute meaningfully to this discourse or could we just roll the dice, see what we get, and take a risk of two steps forward, one step back, from time to time?

When I write, I don't feel I set out to disrupt mainstream society's conception of the other. (Says the guy with a blog called On the Other Side of the Eye.) Inherently, I know my work is always the other, but as a driving concern? It's Soyinka's words that guide me: "A tiger doesn't talk about its tigerness. It pounces on its prey!"

Or: If you conceive of an interesting poem, write it down!