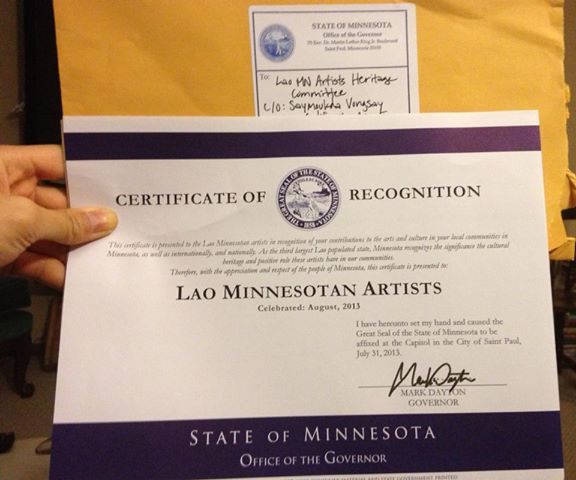 The 2013 Certificate of Recognition from Governor Mark Dayton and the State of Minnesota has arrived to once again recognize Lao Minnesotan Artists in the month of August. It was sent to this year's co-chair, Saymoukda Vongsay, although apparently we have to go back and get the official seal.
Among the highlights of Lao Minnesotan Artists Heritage Month so far is the performance of Saymoukda Vongsay at the Soap Box Factory for the latest installment of
Talking Image Connection
, which she's co-curating with the wonderful Alison Morse.
Also, Ova Saopeng and Leilani Chan are back in town and doing a workshop with the community at Pangea, among other things. Many of you may remember their work in 2010 with the performance of Refugee Nation at Intermedia Arts during the Legacies of War: Refugee Nation Twin Cities interdisciplinary exhibit in Minneapolis.
More of my thoughts on the matter can be found at
Little Laos on the Prairie
this month.
Here's a big thanks to all of our supporters and encouragement to all of our emerging artists in the community!