Saymoukda Duangphouxay Vongsay's
Kung Fu Zombies vs. Cannibals Soundtrack
project has been holding stead at 13% for the last few days with only 18 days to go before they have to call an end to the fundraising. Their target goal is $3,500 to pay over 18 artists a fair rate for their amazing work. It's a good cause.
So, she could use a signal boost from us to anyone interested in Lao American horror theater.
Kung Fu Zombies vs. Cannibals
will set precedent in many ways as the very first full-length original Lao Minnesotan play in at least 40 years. If there's another one you know about, let us know! Produced by
Mu Performing Arts
, it breaks unique ground as an example of Lao American speculative theater.
Her work is original material.
Kung Fu Zombies vs. Cannibals
is not adapted from pre-existing sources such as, say, a safe half-baked re-imagining of a Puccini opera that was already a cliche a century ago.
KFZvC
is not some toothless rock-and-roll
Hamlet
, or banal
Romeo and Juliet and Ninjas
.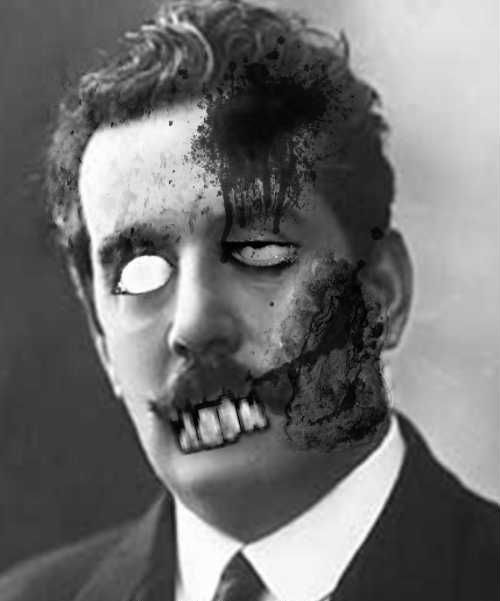 Zombie Puccini says "It's been 99 years since Madame Butterfly. Try something new. Oh, and braaaaaains..."
For those of you who are curious, Vongsay's play passes the
Bechtel Test
with flying colors.
This play incorporates a hip-hop aesthetic and a Lao American-centered perspective on surviving the apocalypse, while also exploring traditional Lao beliefs such as the
Five precepts of Theravada Buddhism
in the future. Do they hold up, or in the future, are all bets really off? And in that case, why bother preserving them today?
Is a community that literally lived through
Apocalypse Now
from 1954-1975 actually better prepared for another end of "civilization"? What happens if we lose touch with an understanding of that experience?
It's a Bad-Ass Play in the very best sense of the word. When it premieres, it will be the same night as the famous
Minneapolis Zombie Pub Crawl
so the streets will be covered in zombies near the Southern Theater. How cool is that?
Saymoukda Vongsay isn't asking you to sit through some dull 'ripped-from-the-headlines' melodrama about the clash between 'tradition and modernity,' 'East meets West,' 'family honor vs. true love' hokum. This is a play about kung fu, zombies, kung fu zombies, cannibals, and people who kick ass in a world in a world that's fallen apart. And if you ever wondered why anyone would try to get to Laos from America after the shit hits the fan, then this is your play. And she deserves some help giving you all the soundtrack you deserve for the end of the world.
You can visit the campaign at
http://gogetfunding.com/project/kung-fu-zombies-vs-cannibals-soundtrack-album
. If you can tweet, repost, blog, or otherwise hoot about it, she'd appreciate it. Or she'll come after you if you don't. I forget which...