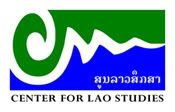 The Center for Lao Studies is initiating a Lao Oral History Archive project in 2009.
This project will document and archive the untold stories of Lao refugees in the United States, their struggles and successes, before they are lost forever.

Currently, there are almost no existing oral history projects and little academic research that focuses on the ethnic Lao refugees in the US.

By raising awareness of the Lao refugee experience, CLS will advance the growing field of Lao Studies, as well as illuminate the realities that this population faces today.

***
The Center for Lao Studies is also proud to present its first publication,
Contemporary Lao Studies: Research on Development, Culture, Language, and Traditional Medicine
, edited by Carol Compton, John Hartmann, and Vinya Sysamouth.
The compilation of vetted, peer reviewed articles came out of the First International Conference on Lao Studies. The book will be available by the end of 2008. International Conference on Lao Studies.
***
The next triennial
International Conference on Lao Studies
will be held at Khon Kaen University, Thailand in 2010. CLS is currently working with Khon Kaen University on the logistics of setting up the dates, forming an organizing committee, formatting the call for papers announcement, and other details of the conference.
It is anticipated that more scholars and community members from both sides of the Mekong River and abroad will attend the third conference, the first one to be held outside the United States. Please stay tuned for more information.
***
International Lao New Year Festival
Get ready for Pii May Lao as CLS and the City of San Francisco host a historic event at the City Hall's Civic Center Plaza on April 11, 2009.
CLS is coordinating with various Asian and other public and private organizations in the Bay Area and across the country to make this important event one of the most widely attended and celebrated in California.
Please join them as they come together as a community to showcase the richness of Lao customs and cultures, and to promote the awareness of the peoples from Laos.