Tonight, July 24th, 2009 is the 5th anniversary of the Lao'd and Clear Reading in Minneapolis.
This marked the first time Laotian American writer Saymoukda Vongsay and I performed together in public. It was a reading no one seriously anticipated or expected back then.
A literary and artistic event centered around young Laotian American voices was unheard of for Minnesota at the time.
* To be clear, previously, Mali and Vongduane exhibited together as part of the Five Senses Show of Hmong and Lao Artists at the Babylon Gallery on Lake Street (before that gallery burned down.) But this was the first time Aloun Phoulavan had been exhibited with them.
Lao'd and Clear was held at the acclaimed
Loft Literary Center
on 1011 Washington Avenue S. in Minneapolis. The Loft Literary Center was where I would eventually hold many readings including my book release party for
On The Other Side Of The Eye
.
Tip Sivilay, a member of the SatJaDham Lao Literary project, graciously provided us with a CD of some of his favorite Lao jazz artists to play for the audience before the show began. We also played a slideshow of images from my first trip back to Laos in 2003.
The Vongsay family provided audience members with a delicious assortment of traditional Lao appetizers and snacks to nibble on before and after the show. Mali was also in the process of selling her t-shirts at the time, including the shirt Saymoukda wore for the reading, and these were reasonably popular and now hard to come by.
We had a very surprising turnout of nearly 100 people on a Saturday night for a poetry reading.
The evening was done in what I think is safe to call the signature style of a Minnesota Lao American poetry reading, complete with zany door prizes, surprises and lots of laughter.
This isn't to say it was perfect. Far from it. Very little documentation of the evening exists today in terms of photographs or programs.
Hindsight now allows me to concede: A lot of our material was still rough and unpolished. We were pretty self-conscious up there, taking a pretty big risk self-identifying as Laotian American writers.
We fielded a lot of snippy and snide remarks during the early planning stages, and even afterwards, we got a lot of very frank and blunt critiques.
At the time, we wanted to show there could be an audience for our work, and that Laotian Americans created. And $@$@ good stuff, on top of that. I would like to think most people in attendance saw that.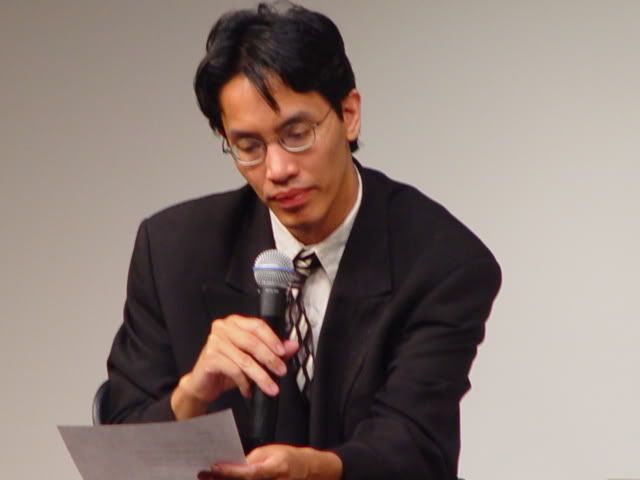 The VHS footage isn't fit for public viewing, but suffice it to say: while we weren't quite ready for prime time, it's a clear beginning of a new Lao American approach to poetry in Minnesota.
From this point forward we continued to collaborate on many fun and positive projects. Both Saymoukda and I learned a lot from the evening.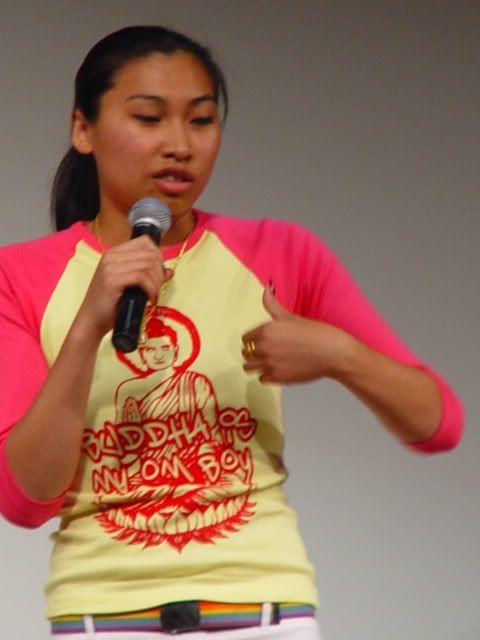 Since then, she's performed around the world in Japan and Italy, Alaska and across Minnesota. Last year, she released her first chapbook, No Regrets at a reading at the Loft with acclaimed novelist Ed Lin and I, and continues to write and create.
Malichansouk Kouanchao continues to produce amazing work and her murals and other art projects appear around the country, including as part of the
Legacies of War
project and for
Refugee Nation
. She's traveled widely in recent years. She's one of the essential Laotian American artists of our generation. An original of hers is very hard to come by, so if you spot one for a good price, get it.
Vongduane Manivong's work has been displayed around the country as well, from Texas to Rhode Island and Minnesota, among other places. She was the artist for the cover for my new book, BARROW, being released in the early fall. Her style has continued to grow in its character and professionalism. She continues to live in Texas with her family.
Aloun Phoulavan eventually left the Saint Paul Public School system to study art and culture in Asia for several years before returning to the US. His work has appeared in Bakka magazine among other places and he started a family.
It's been a fascinating 5 years. Since the reading, we connected with some great writers and artists like
Catzie Vilayphonh
and
Phayvanh Leukhamhan
, Thavisouk Phrasavath, Ova Saopeng and Leilani Chan and so many other supportive figures and visionaries. I'm grateful to be part of this journey with them and our readers. I can't wait to see what's ahead.