The H.P. Lovecraft Film Festival is almost upon us and we caught up with one of returning artists joining us for the festival this year, Justin White of
Necro-Sapien Press
!
So what have you been up to since the last H.P. Lovecraft Film Festival?
The past year has been great. I had a lot of success at Wonder-Con Anaheim and some of the other big shows but I've also been spreading out to some less traditional venues. For example a couple if months ago I had a booth at a roller derby bout and that was great. It was a cool experience to show my art to a lot if people who otherwise might never have seen it. Another exiting thing that recently happened was I formed a coalition of artists in my area and we held our first group show this past August and it was a huge success. The group is called Artrocity and you can expect some really amazing things coming up in the near future!
What have been some of your most popular items, and what are you looking forward to presenting this year at the festival?
Probably my most popular item from last year was my "Crawling Chaos Tavern" print, which will be returning this year. The biggest surprise, sales wise, was how popular my "Imperial Metal" pieces were. They are a set of three prints that combine various characters from a certain Sci-Fi movie series with Heavy Metal album art from the 80's. Those were a big hit.
This year I will have several new prints including a piece I am finishing up right now just for this years festival. It's titled "Offshore" and it very much channels this years theme. I'm am also working with a very cool company called Blackbird Bows to put some of my art work on to new products and merchandise.
What's been inspiring you lately?
Personally my biggest inspiration this year has been my family. Last October my wife and I became permanent legal guardians of my 12 year old niece and we also have a two year old daughter. I really want them to see that if you work hard and believe in yourself you can spend your life doing what you love. And that you should never give up and never listen to those who just want to raise themselves by knocking you down.
What's the toughest part of making a truly Lovecraftian piece?
The toughest part about making a successful Lovecraftian (one of my favorite words by the way) piece is mood. I think I mentioned this last time we talked but what I love about H.P.'s work is his ability to create the most foreboding atmosphere and then completely submerge you in it. His sense of horror isn't about a knife wielding maniac or a psychopath in a clown costume. It's about your own fear eating away at your sanity. The monsters in his works have already defeated you long before you see them. I try to capture that in my Lovecraft themed pieces. I don't think I fully have yet but that's ok it's just motivation to keep trying.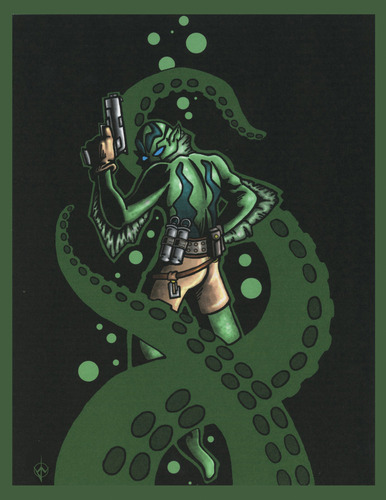 When are you most satisfied with one of your creations?
Honestly I am rarely satisfied with a piece I'm working on. The hardest lesson for me as a professional artist was knowing when to be finished with a project. Sometimes the more you push for perfection on a single piece the further from it you are in the end. My biggest sense of satisfaction is seeing fans reactions to a piece they love. When a stranger is as excited to see a piece of art as I was to create it now that is truly satisfying.
What's the strangest dream you've had lately?
For whatever reason I rarely remember my dreams. The last one I do remember was a couple of weeks ago. In my dream I was sitting down for a haircut (I haven't had a haircut in 5 years or so). So there I am in the barbers chair and the second he makes the first cut I realize it's a huge mistake and I jump up in a panic and run out. I woke up sweating and my heart pounding. Needless to say I won't be cutting my hair any time soon.
This year's theme is "Shadow Over Innsmouth". What's the big lesson of that story for you?
The main lesson I always take away from "Innsmouth" is you can not run from what you are. You can use it, channel it, but the more you hide from it the more devastating the result will be when it finally catches up to you.