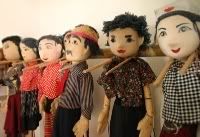 In a tiny office behind the Lao Plaza hotel in Vientiane, you'll find the National Puppet Troupe.
They were established in 1979 following a six-month exchange programme when a group of Lao arts practitioners went to study with the Central Puppet Theatre in Sofia, Bulgaria. Today, they focus on 4 forms:
Bulgarian-style hand/rod puppetry -
using both Bulgarian-style and Lao-style puppet for 10-minute 'social theatre' playlets on development issues to amuse, entertain and educate;
Hun kabong puppetry –
a new style of hand/rod puppet made from recycled materials, a technique developed with French support.
Humans in costume.
(Probably not on the scale of the Mummenschanz.)
Ipok Puppetry.
In practice the one-and-a-half hour stories are rarely performed and when they are, it is a simplified version to make them easier to understand.
The troupe receives many requests to tour outside Vientiane, but is unable to tour anywhere internationally unless an NGO or government agency pays for the costs.
Their small office/rehearsal space is located immediately behind the Lao Plaza Hotel in central Vientiane, which can also be a performance space for small audiences.
They have no theatre of their own and are interested in overseas aid to build one.
The National Puppetry Troupe has also expressed a need of a second vehicle since the existing one is extremely overloaded when the entire company travels with their equipment.
The National Puppet Troupe is not currently a member of UNIMA due to funding issues.