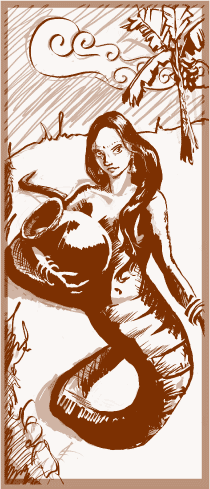 Shweta Narayan
is one of the emerging voices of the Asian American poetry community, and one of the few to be actively and regularly producing work that we would consider speculative poetry. Her more professional work has been appearing since about 2007.
In her bio she states "I was smelted in India's hot summer, quenched in the monsoon, wound up on words in Malaysia, and pointed westwards. I surfaced in Saudi Arabia, The Netherlands, and Scotland before setting off to California, where I live on language, veggie tacos, and the internet." And in many ways, I think that says almost all you need to know to start getting into her work.
Shweta has been a part of the
Carl Brandon Society
and attended the famed Clarion writers workshop program for those interested in speculative literature. She also maintains a blog at
http://shweta-narayan.livejournal.com
and shares some of her visual artwork from time to time at
http://shwetambari.deviantart.com/
.
I first became familiar with her work through her poem
Apsara
and she also does work in flash fiction, prose poetry, and forms that occasionally defy easy or conventional definitions. I'm sure it's only a matter of time before we see a full book-length collection from her.