In 1993, James R. Brandon's
The Cambridge Guide to Asian Theatre
discussed the different forms of Lao theater, noting that there were three key forms: proto-theatrical indigenous forms, court forms that emulated Khmer-Thai models, and modern popular genres from the 20th century combining folk forms and popular Thai theatre elements such as the likay. Lao American theater is taking some different directions and inspiration. It will be interesting to see what the next forms will be when these communities get an opportunity to connect for an extended period of time with adequate resources to create a meaningful exchange.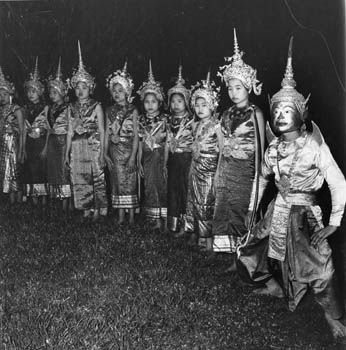 According to Brandon:
"Court forms of dance theatre were established as Lao kings copied customs of powerful neighboring monarchs. Tradition holds that Cambodian (Khmer) court dance, along with the
Ramayana
and
Jataka
repertoire were introduced to Laos by Prince Fa Nguan in 1353. During the 14th century the Lao kingdom of Lan Sang ('Million Elephants') was established and in this time the Khmer monarchs with their troupe of female wives-dancers were the epitome of potent kingship in the region. Keeping up with the Khmer meant establishing female court dance with movement and repertoire modeled on Khmer practice. The Lao kings were never as rich as the rulers of Angkor. Nor could the Lao compete later in the 15th century with Thai rulers who, first at Ayutthaya and later in Bangkok, emulated Khmer practice... Just as Lan Sang in the early period aped Angkor, the small courts established by partition in 1700- Luang Prabang, Wiangjun and Chapassak - imitated Thai models: Thai female court dance
LAKON FAI NAI
, male masked dance drama
KHON
and shadow play
NANG yai
were taught and performed at court. The Lao chose not to alter the forms: the Royal Lao Ballet of the 1960s in Luang Prabang included only female dancers, the best of whom had trained in Bangkok. Rather than staging full dance dramas like the Thai and Cambodians, this smaller court favoured solo and small group dances" (
Brandon, 191
)
This entry is obviously approaching 20 years old, but it's an interesting start to consider how we discuss the journey of Lao theater and where we might see it go in the years ahead.