For those of us in Minnesota, be sure to catch this film when it comes to town February 18th: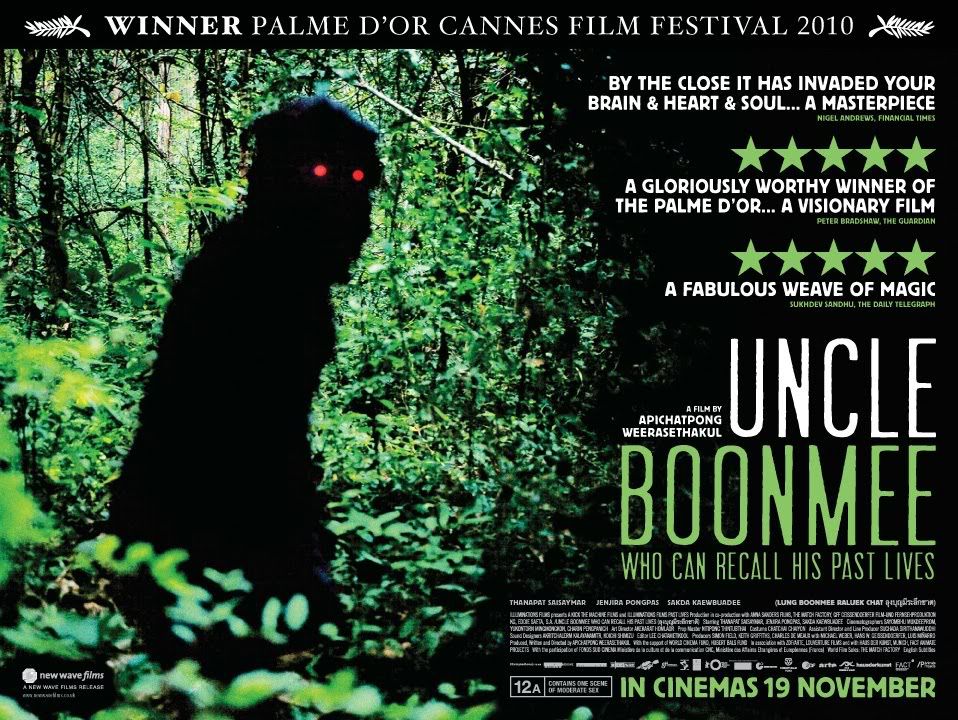 Five years after celebrating Thai filmmaker Apichatpong Weerasethakul with a Regis Dialogue and Retrospective, the Walker premieres his new film, Uncle Boonmee Who Can Recall His Past Lives, which was awarded Cannes' Palm d'Or for Best Feature last spring.
Since then, critical praise for the film has been both ample and exuberant.
In this "gently comic and wholly transporting tale of death and rebirth" (New York Film Festival), the title character contemplates the reasons for his terminal illness and leaves his farm to spend his final days surrounded by loved ones in the countryside.
Encountering ghosts and other surprises, Boonmee treks through the jungle to a mysterious hilltop cave—the birthplace of his first life. Uncle Boonmee "takes a series of ravishing, dreamlike detours, [and] daringly combines joyful quietude, melancholia, deadpan humour and political awareness in its mesmerizing reunion of the living with the dead, the natural with the supernatural, history with the present" (Toronto Film Festival). 2010, 35mm, in Thai with English subtitles, 114 minutes.
February 18-19, 7:30 pm. Walker Cinema
1750 Hennepin Ave., Minneapolis, MN.
$8 ($6 Walker members and students with valid ID).