For those of you joining us at the Southeast Asian Educational Leadership Conference on April 21st, 2012 in Fresno, the agenda has been announced. I'll be one of the presenters there this year.
Http://go2fresnostate.com/seaconference
for more details. It's free to attend!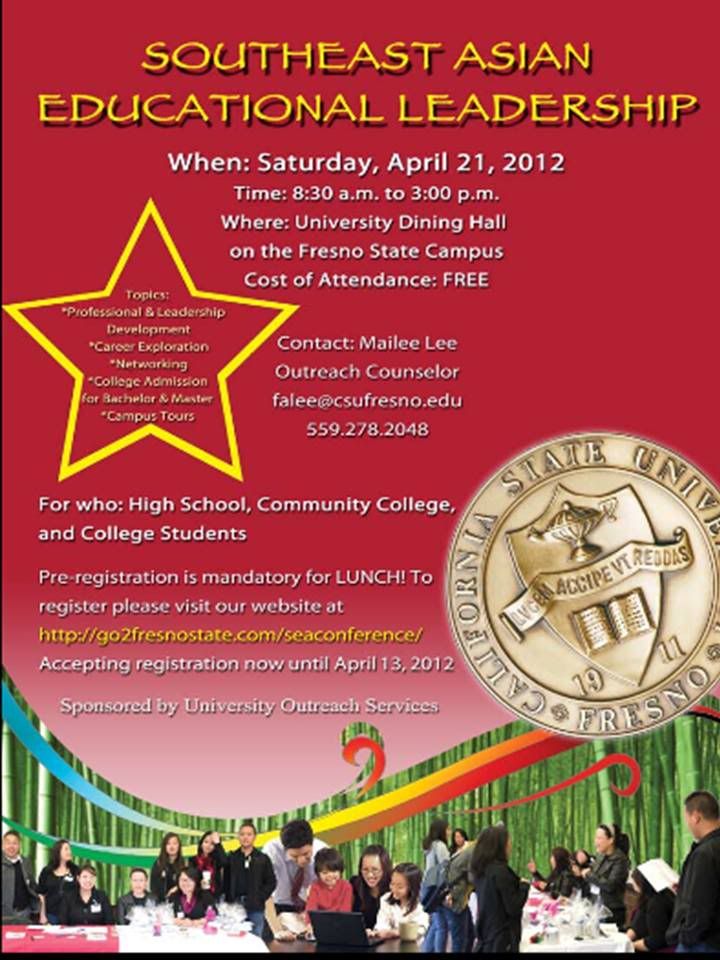 During my workshop we'll be examining: "How much difference can your voice make?"
I will discuss the importance and opportunities for emerging Southeast Asian American writers and artists to help preserve the best of our cultural traditions but also use our voices to transform Southeast Asian American communities locally and nationally. In particular, we'll be looking at the role grassroots arts organizations in the Lao and Hmong refugee communities played in building community voice, social justice and long-term growth and development that continues to this day!

In addition, this year's Keynote Speaker is Misty Her, Associate Superintendent for Fresno Unified School District. Other presenters include Dr. Ketmani Kouanchao, Dr. Song Lee, Vong Mouanoutoua, Fresno State Ambassadors, Eta Alpha Gamma and Phi Alpha Omicron.

In Professional & Leadership Development, Vong Mouanoutoua will focus on developing leadership and civic engagement. He will also provide participants with resources and tools that will enable them to be fully engaged in their communities.

In Career Exploration "These sessions will explore career opportunities and pathways. It will also provide participants with information on majors relating to career choices."

Networking Workshops are pitched as "This session will focus on the importance of networking. Ketmani Kouanchao will share tips, strategies, and highlight how participants can successfully network by participating in clubs/organizations, volunteering, extracurricular and class activities."

In College Admission for a Bachelor's Degree A panel of Fresno State Ambassadors will share with participants regarding basic Admission requirements. The panelist will also share with students' tips and strategies they are currently employing to obtaining their Bachelor's degree.

The 411 for pursuing a Master's Degree will feature a panel of Fresno State students who will share with participants tips and strategies for pursuing a master's degree and highlight the important perquisites, Letter of Recommendations, GRE, etc.

Looking forward to seeing you there!