Runa Islam has a film installation in the Art Unlimited section of the Basel art fair entitled "Emergence."
Runa Islam is a British visual artist and filmmaker of Bangladeshi origin based in London. She was a nominee for the 2008 Turner Prize. She is principally known for her film works. She attended the Rijksakademie van Beeldende Kunsten, Amsterdam from 1997 - 1998, and cited auteurs such as Jean Luc-Godard as influences on her work.
The 'Emergence' exhibit offers an intriguing number of questions about how we might make artistic statements in the future using antiquated technology to express a moment of hope and what might have been.
Newsweek/The Daily Beast proposes we might read this particular exhibit as a statement that "Democracy is never guaranteed, and even recovering its traces turns out to be an unlikely and delicate business..."
As I look at Lao American visual art, the three artists who might have approached the subject in a similar way might be Mali Kouanchao, Vong Phaophanit, and Sayon Syprasoueth, who consistently work with mixed media and experimental forms compared to other more conventional painters and illustrators.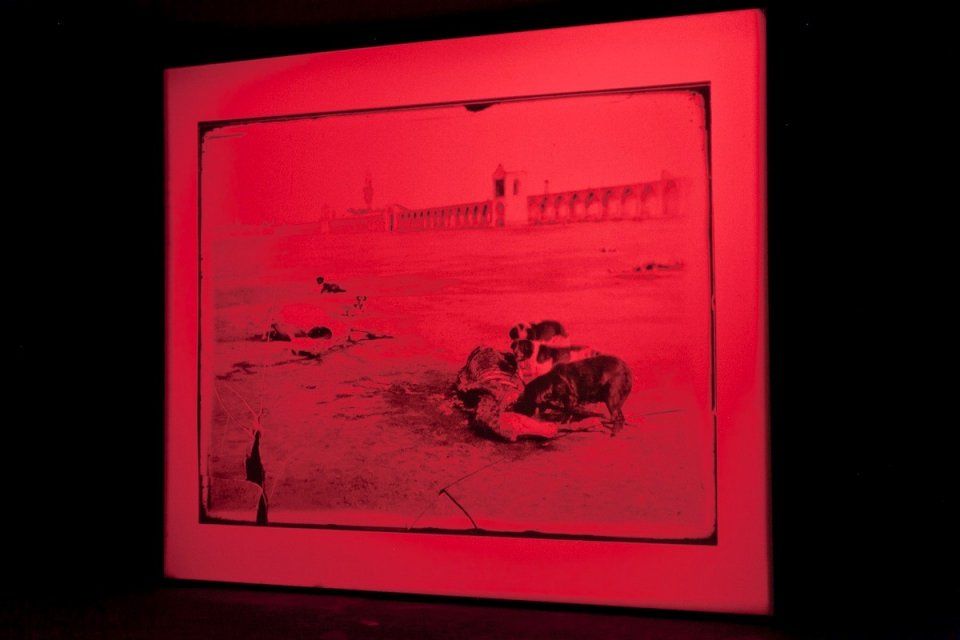 In the catalog, Islam's artistic statement says:
'Emergence is a 35 mm silent film that was originally shown at the Museum of Modern Art, New York, for the exhibition Projects 95: Runa Islam in 2011. Runa Islam's work is often presented as a cinematic experience that exposes the process of filmmaking itself within a unique architectural configuration. Emergence evolved out of the discovery of an old glass plate negative of a blackand-white photograph o f early 20th-century Tehran, found by the artist in the Smithsonian archive. As the film unfolds from its purely abstract opening shot – a crack in the center of the screen – we glimpse a sheet of paper being dipped into a chemical bath, and an image on its surface slowly appears before our eyes. Bathed in the glow from the photographic darkroom, the surrounding space of the installation makes the viewer feel as if they have entered the intimacy of the darkroom itself. The fissure we glimpsed earlier reveals itself as part of the overall picture of a group of stray dogs, scavenging the carcasses of dead horses in the dusty grounds of what could be a palace. The violence of the image is counteracted by its stark, monochromatic beauty but reinforced by the damaged glass negative the work derives from. Both poetic and conceptual, Islam's work has been described by curator Christian Rattemeyer as inhabiting 'the boundaries between visibility and invisibility, legibility and silence, stability and instability, syntactical simplicity and symbolic complexity.'
While I find the final bit a bit pretentious, I think the idea of creating visual art that is poetic and conceptual would be an engaging direction to take our work in the years ahead and to really push the limits of what Lao American artists address in our work.