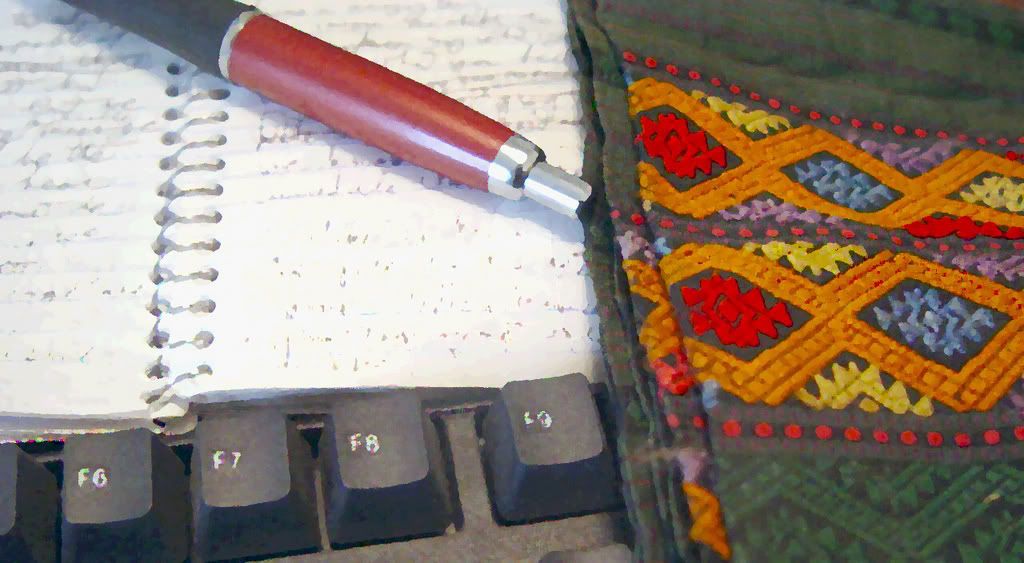 The Science Fiction Poetry Association has announced its annual winners of the Science Fiction Poetry Contest.
"Fielding over 400 entries from around the world, contest coordinator
Diane Severson Mori
sorted the entries into categories, removing identifying elements. Finalists were selected by preliminary readers
Michael A. Burstein
,
Ann K. Schwader
and
Marcie Lynn Tentchoff
, who each chose ten poems from each division to be sent on to the final judge." This year's final judge was speculative poet
Andrew Joron.
So, without further ado:
This year's Long Form winner was a tie between Bryant O'Hara for "The Music Is Always On" and Jade Sylan's "Rocketman Pantoum."
Bryant O'Hara
is a speculative poet based in Georgia. A "Programmer, Poet, Science Fiction/Anime Geek - not necessarily in that order," he says "I think I know enough about music to be dangerous. I write poems and songs with science fictional elements. I write music with whatever software or code I can find or write myself. I use whatever musical genre works for the piece. I am always searching for the "sense of wonder" and am amazed at where I find it." You can find some additional examples of his work at
http://soundcloud.com/bryant-ohara
Jade Sylvan
is a writer and performance artist. She's the author of
The Spark Singer
and has had work published in
PANK, The Sun, Bayou, Basalt, Word Riot, Decomp
, and others. Read her work and about her various projects at
jadesylvan.com
. She lives in Cambridge, Massachusetts.
The winner of the Long Form and Non-member winning poem was Darrell Lindsey for "The Fugitive."

Darrell Lindsey
is a freelance writer/ poet/songwriter from Nacogdoches, the oldest town in Texas. His haiku and tanka have won awards in the United States, Japan, Croatia, Bulgaria, Canada, and Romania. He is the author of Edge Of The Pond ( Popcorn Press, 2012), available on Amazon and from the publisher at popcornpress.com.
The Short Form winner was Damien Cowger's "Cold." Cathy Bryant's "Calculated" was this year's Short Form Runner-Up.
Damien Cowger
is the Managing Editor of
New Ohio Review
and is also a writer of short fiction and poetry. His work has most recently appeared in
Midwest Literary Magazine, Denver Syntax
, and
Pale House
. He lives in Athens, Ohio with his wife and daughter.
Cathy Bryant
lives in Manchester, UK, and performs her poetry all over the country. Her short stories and poems have been published in every continent except Antarctica, and in 2012 she won the Swanezine Poetry Prize, the Bulwer-Lytton Fiction Prize, the Sampad 'Inspired by Tagore' Prize and the Malahat Review Monostich Poetry Prize. Her collection
Contains Strong Language and Scenes of a Sexual Nature
was published recently. Her website is
cathybryant.co.uk
.
This year's Dwarf Form winner was "Lilith" by Steven Wittenberg Gordon. The Dwarf Form Runner-Up was "Dinosaur Heart" by Noel Sloboda.
Steven Wittenberg Gordon
received his BA from Amherst College and his MD from Albany Medical College. He credits his romantic Shakespearean sonnets and other love poems with his luck in wooing, winning, and keeping his wife—a lady otherwise clearly out of his league. In the past year, he has been experimenting with speculative poetry, mainly fantasy and horror. "Lilith" is his first work of short fiction to be published in a professional market. Doctor Gordon resides in Kansas with his wife, their two children, and a poorly trained Airedale terrier. He continues to practice medicine on a part-time basis. Visit him at
eretzsongs.blogspot.com.
Noel Sloboda
is the author of the poetry collection
Shell Games
as well as several chapbooks. He has also published a book about Edith Wharton and Gertrude Stein. Sloboda teaches at Penn State York and serves as dramaturg for the Harrisburg Shakespeare Festival. His forthcoming poetry collection,
Our Rarer Monsters
, will feature original art by Marc Snyder. Catch a glimpse here:
tumblr.com/tagged/our-rarer-monsters
A big congratulations to all of the winners and a thanks to the judges. Going through 400 poems is not an easy task, but it has played a wonderful role in keeping speculative poetry vibrant and engaging. The Science Fiction Poetry Association was founded in 1978 to bring together poets and readers interested in science fiction poetry.