We successfully raised the funds for this project on January 1st. However, because of holidays, payday issues, etc. by popular request we're extending the orders for the Deluxe Edition to January 15th if you e-mail me at thaoworra@aol.com for details.

I can give you either the address for paypal or a snail-mail address for a check. We will honor all pledges made this way as if they had been made through the standard Kickstarter, except for sold-out limited pledge levels.

After the 15th, we have to close the books to move forward in getting this awesome project put together!
In the photo below, you can see how much physically bigger the deluxe edition will be compared to the regular edition released by Innsmouth Free Press in 2013 (which will be the same size as On the Other Side of the Eye)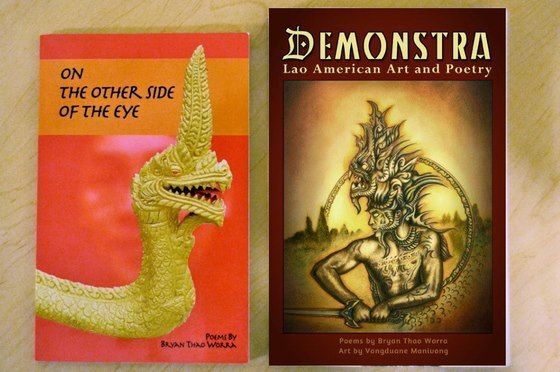 A pre-order of $20 for example, gets you a pdf copy and an author-signed copy of DEMONSTRA with the Kickstarter-exclusive cover. Your name will be included on the "Special Thanks" page. You'll get a handwritten thank you note from the author and artist. You also get a DEMONSTRA postcard and magnet of the cover. You'll also get a limited edition set of postcards featuring 13 legendary beings from Lao legend. You'll also get a certificate recognizing you as a supporter of the DEMONSTRA kickstarter. Plus you'll help to sponsor all of the forthcoming downloadable content including DEMONSTRA finger puppets and one-page role-playing game scenarios.