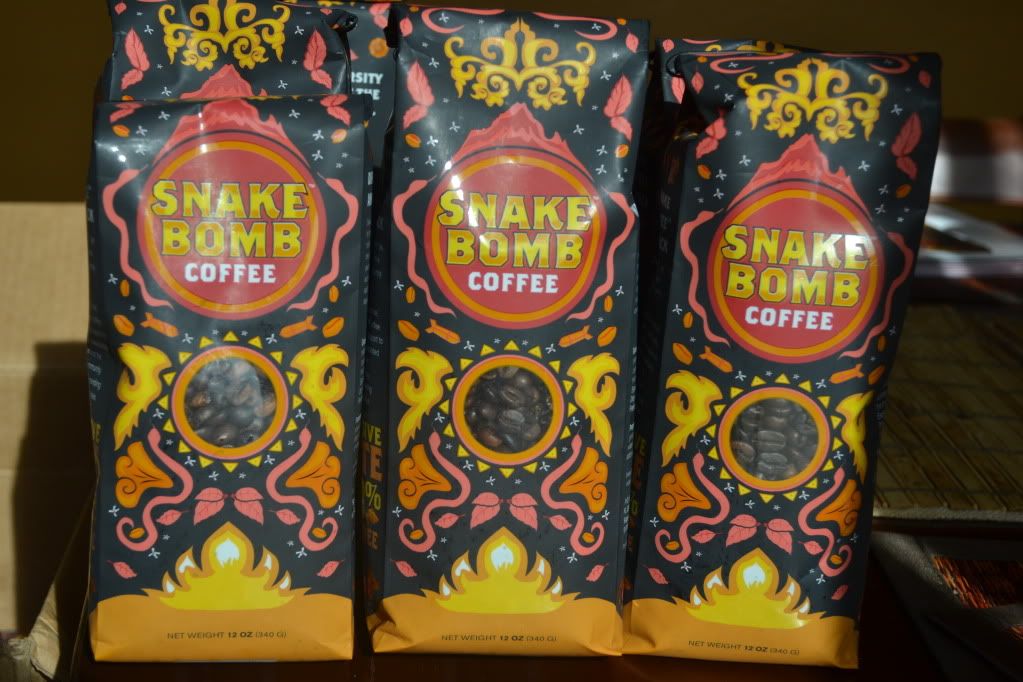 Came back from a trip to Minnesota and found a nice case of Snake Bomb Coffee waiting for me. It's going to be so hard to resist brewing them all into delicious pots of coffee. But as it is, these packages are going to good homes this year!
As a thank you to many of our backers who supported our DEMONSTRA kickstarter, they'll be getting a package of Snake Bomb Coffee as part of our appreciation. Also, I'll be holding a monthly writing contest now and giving a package of Snake Bomb to the lucky winner. Stay tuned for more details!


As many of you may know, Laos is the most bombed country of the 20th century. More tons of bombs were dropped on Laos than on all of Europe during World War 2.
Snake Bomb Coffee's mission is to "raise awareness and support for economic, social, and environmental initiatives within Laos – including programs that remove unexploded bombs and provide anti-venom for snake bites." Proceeds from Snake Bomb coffee sales go to support effective programs in Laos.
You can visit them at:
http://www.snakebombcoffee.com
Considering the number of poems in DEMONSTRA that address both UXO and snakes (legendary and regular) and the approaching Year of the Snake, we're happy to be introducing our backers to Snake Bomb Coffee.
They also have a nice fundraising program for non-profits and student groups available. This project has my full support and strongest recommendation. Now I'm off to go brew another pot of coffee.