Thursday, September 13th in Saint Paul at the
Rondo Community Outreach Library
we'll be marking the fifth year anniversary since
Bamboo Among The Oaks
was published!
The evening has a very special reading featuring several of the writers included in this ground-breaking anthology, including Bee Cha, May Lee, Vayong Moua and myself. The reading is free and starts at 7PM!
The library is at 461 N. Dale Street in Saint Paul.
First printed in 2002 by the Minnesota Historical Society Press, Bamboo Among the Oaks featured 23 writers working in many different genres, from poems to short stories and plays.
When it came out, it was described as "...a landmark book," by Anne Fadiman, the author of The Spirit Catches You and You Fall Down, and '...a groundbreaking anthology" by David Mura, author of The Colors of Desire: Poems and Turning Japanese: Memoirs of a Sansei. 5 years later, this still holds true.
Today, Bamboo Among The Oaks is taught in classrooms across the country and many of the writers included within it have gone on to even bigger projects and publications, speaking and performing across the country.
We look forward to seeing you there if you can make it!
***
And as a quick recap: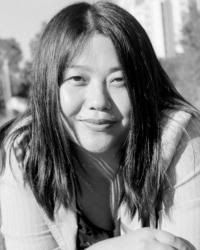 May Lee
is a former member of the Hmong spoken word group, FIRE (Free Inspiring Rising Elements) and has been published in
Bamboo Among the Oaks, Paj Ntaub Voice, Unarmed Journal, AsianAmericanPoetry.Com, Bakka Magazine
and
The St. Paul Almanac
. A co-founder Portraits of Boiled Thoughts, Lee has been an actress and performed for Pom Siab Hmoob Theatre in some of the very first Hmong American plays.
She is also the winner of the Loft Literary Center's Mentorship Program in Non-Ficton (2005), the Minnesota State Arts Board Artist Initiative Grant (2004), the Playwright Center's Many Voices Residency Fellowship (2002), the University of Minnesota's Anna Augusta von Helmholtz Phelan Scholarship for Creative Writing (2001) and the University of Minnesota Undergraduate Research Project grant. Her work has been regularly presented by Mu Performing Arts.
Vayong Moua
grew up in Eau Claire, Wisconsin and earned a B.A. in philosophy, sociology/anthropology, and Asian studies from St. Olaf College and an MPA in public policy from the University of Wisconsin-Madison. He has studied abroad in Asia, taught English in Japan, and wandered in Alaska.
Vayong Moua's"The Hmong Wall" illustrated a frequent challenge of Hmong American writers- reclaimation of their story. Taking a passing minor comment from Anne Fadiman's The Spirit Catches You And You Fall Down about a small wall erected to defend the ancient Chinese from the Hmong, Moua redefined what was an important part of his community story and infused it with a meditation of hope and pride that will speak not only to present-day readers but future generations.
Bee Cha was one of the visionary cofounders of Paj Ntaub Voice, the longest running Hmong literary journal in the world. He earned his master of architecture from Washington University in St. Louis, Missouri. He was involved with Hmong Artist Trek and volunteers frequently with Hmong youth.
***
I should point out that this is a particularly unique reading because while we have worked with one another variously throughout the years since Bamboo Among the Oaks came out, this is the first reading where all five of us have come together at the same time.
I hope you can make it!