A deep thanks to all of you who came to the book launch on Friday, and to all of you who sent your best wishes from afar. Your energy was amazing!
Over 150 people attended the evening from across the country, including California, New York, Wisconsin, Michigan, Iowa and of course, Minnesota.
Even a friend from Australia and some freshly returned from visiting Korea, despite their jet lag! Thanks so much!
We almost sold all of the copies of
On The Other Side Of The Eye
we brought with us.
The book came out beautifully, and all of your support helped
On The Other Side Of The Eye
get off to a great start.
It will soon be in bookstores across the country, including
DreamHaven Books!
---

Barbara Jane Reyes and Oscar Bermeo have great posts about the reading worth checking out.

---
So how did it go?
Friends and family (including my mom, all the way from Michigan), students, community educators, activists, co-workers old and new, and my fellow writers and artists came to celebrate with us.
We also saw many of my old editors from
Whistling Shade
,
TripmasterMonkey.Com
,
Northography.Com
,
the Hmong American Institute for Learning
,
the Center for Hmong Arts and Talent
,
Illumen
,
Tales of the Unanticipated
and other journals who have all previously published poems of mine. (Thanks, by the way!)
Tyree Campbell of Sam's Dot Publishing, my publisher, graciously thanked the audience and talked briefly about my work.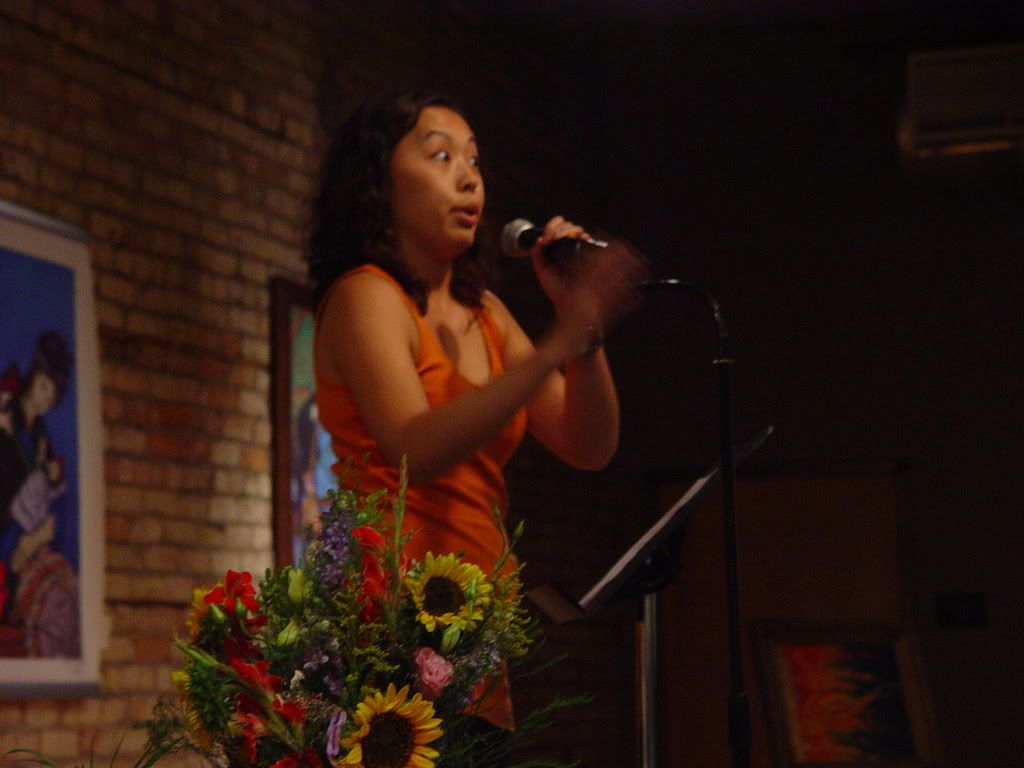 Actress/writer
Katie Ka Vang
read edgy and humorous pieces touching on everything from Hmong families to hardcore volleyball players. She's one to watch for. She has a production coming up at
Intermedia Arts
this fall, and we'll keep you up to date on that!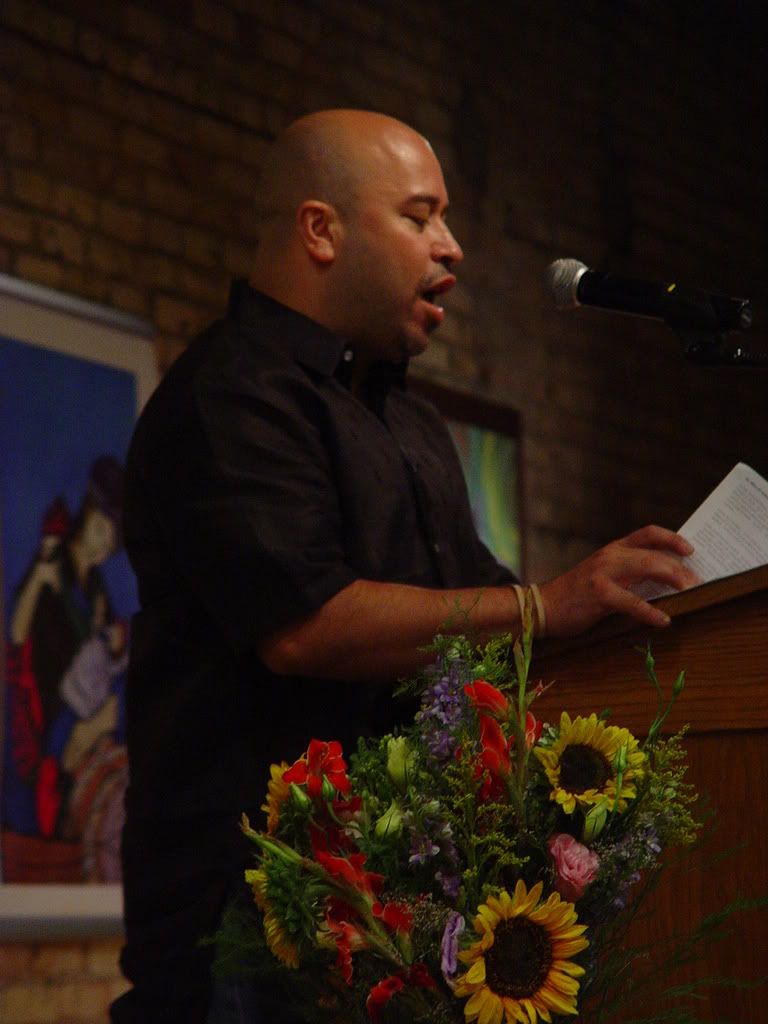 Due to unexpected circumstances, Vietnamese American spoken word artist
Bao Phi
could not attend, but Ecuadorian/Bronx poet
Oscar Bermeo
, editor of
Tea Party Magazine
, generously filled in.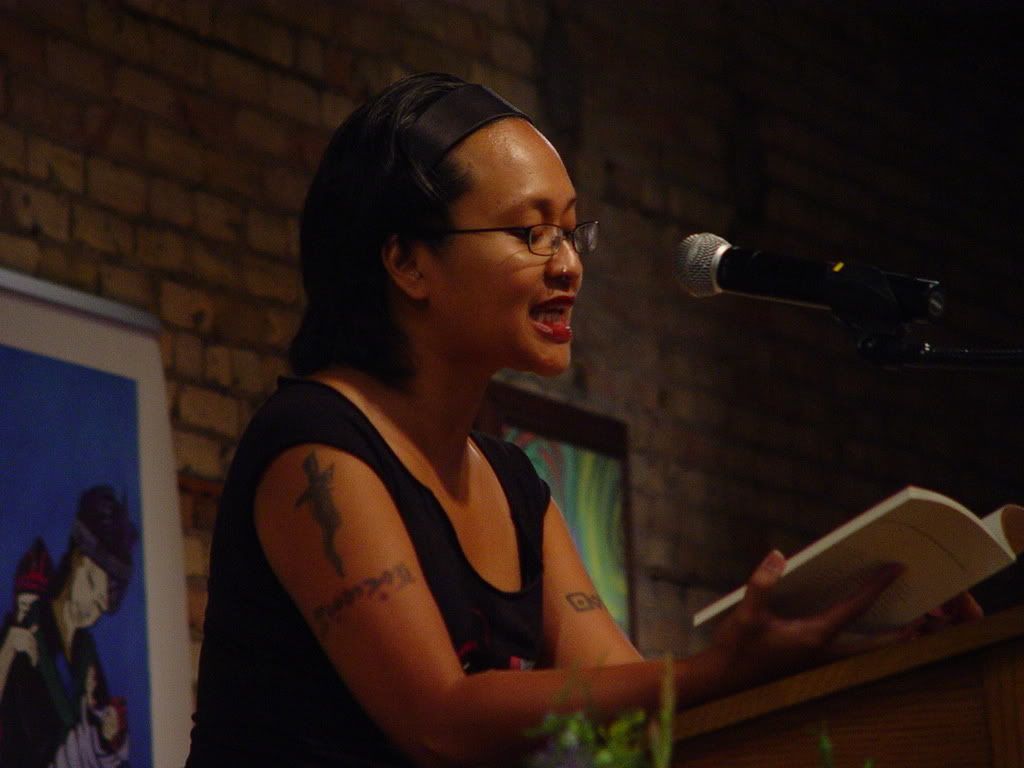 Award-winning Filipina American poet
Barbara Jane Reyes
read work from Poeta En San Francisco and all-new work including her short prose poem on the real cause of Magellan's death.
She brought a great energy to the stage, and hopefully it won't be too long before she and Oscar set foot in Minnesota again.
During my reading, I discussed the structure of
On The Other Side Of The Eye
, reading examples that were highlights of the book- those famous 'mad scientist' mixes between global mythology, science, history, spirit and culture everyone's been hearing so much about.
(And as a reminder to my readers:
A big key to the entire book is embedded in the endnotes
...)
Thank you all so much for the standing ovation!
As an aside, it was wonderful to see so many of my peers from TCNOC, CAPM, HACC, Diversicon, Arcana and CONvergence in attendance because they were all exceptionally helpful in helping me get to this point today.
What were the door prizes we gave away this time?
A
"Sea Monkey City" kit
and a special, one-of-a-kind poem of mine, "The Sea Monkeys and I". Additionally, we gave away a wooden Lung (Chinese dragon) also with a unique poem.
We also presented a complete archive set of the acclaimed Paj Ntaub Voice Hmong literary journal, courtesy of the
Hmong American Institute for Learning
.
And finally, we gave a unique trio of signed books: Barbara Jane Reyes' Poeta En San Francisco, Bao Phi's Surviving The Translation, and Juliana Hu Pegues' Immigrant Dictionary. Someone has excellent reading material for the month. :)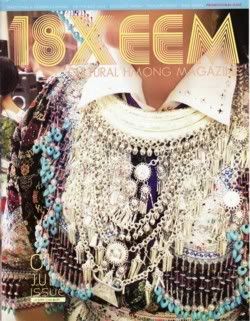 The new Hmong magazines 18Xeem and Eye.D had promotional materials on display, as well as Legacies of War, an ongoing project to raise awareness about unexploded bombs in Laos. Legacies of War is specifically conducting a campaign to support S. 594, a bill to limit the use, sale and transfer of cluster munitions being introduced by. Sen. Feinstein of California.
Twin Cities Hmong artist
Seexeng Lee
, a teacher at Patrick Henry High School, provided the artwork on exhibit that evening to much acclaim, and created a unique collaborative art piece for audience members to sign to commemorate the evening.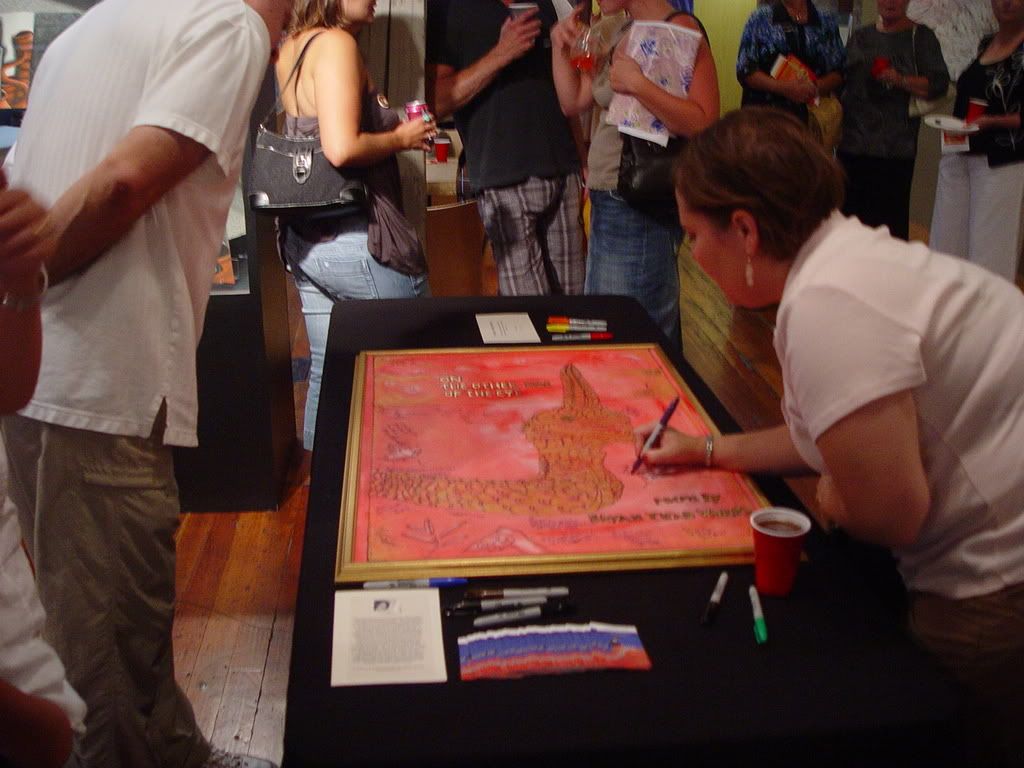 Excellent refreshments and food were provided by Mao Vang, and the two cakes from the Hmong-owned business,
Cakes By Fhoua
particularly stand out for recreating the cover to my book. And they were filled with strawberries, my favorite. Yum! Thanks so much, ladies!
Several bottles of fine wine and champagne were also provided courtesy of my wonderful colleagues at TripmasterMonkey.Com.
We also gave away some fun cinnamon mints in a custom commemorative case. A special nod goes to fellow TRA
Sume
for her help on this project. And of course, a special thanks to Yuk Ki Lau for the final cover design. It wouldn't have been the same book without his help!
May Lee, Peter Yang, and my uncle, Joel Worra, were invaluable by volunteering to videotape the event, and we hope to have highlights available online soon.
For those of you who were asking, the Jac Zagoory-designed 'Write No Evil' pen I use to autograph books was provided courtesy of
Ink
and proprietor Barry Rubin. A highly recommended visit if you can make it.
And my thanks would be incomplete if I didn't mention the amazing Claire Wilson, Jerod Santek, Dara Syrkin, Bob Williams and the rest of the
Loft
staff for excellent support well above and beyond the call of duty. It's an amazing space for our community.
I'll now be reading across the country in the months ahead, with several events scheduled in Minnesota, Wisconsin, California and Michigan already. And possibly Australia!
So, from the bottom of my heart, my deepest thanks to everyone who helped and to everyone who came, even braving Vikings traffic, the Irish Festival and the Fringe Festival all taking place at the same time!
(And if you still need an autographed copy, you can now use Paypal. Yay!)