From a recent exhibit in the Frick Collection, we find the work of Louis-Jean Desprez (1743–1804) who created the charming painting The Slaves of Vedius Pollio Thrown Alive to the Moray Eels (ca. 1777–79)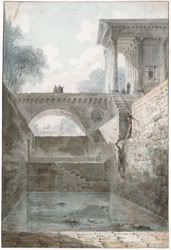 According to the Frick:
This delicate watercolor shows a gruesome scene: a slave is being flung into one of the fish tanks at the Villa Pausilypon, home of the notorious Publius Vedius Pollio — Roman equestrian, friend of the Emperor Augustus, and a man renowned for his wealth and cruelty. Vedius Pollio kept man-eating moray eels in his reservoirs "and was accustomed to throw to them such of his slaves as he desired to be put to death" (Cassius Dio, Roman History). Desprez's drawing was among the many commissioned for a grandiose illustrated travel guide to Naples and Sicily, but the subject was finally considered too horrific for inclusion.

It's certainly an unusual story. And I'll file it firmly under 'unpleasant ways to go.' And for a reminder. Here's a Moray Eel spotted in Thailand: