It's well known I love coming to the Twin Cities Book Festival year after year in Minneapolis, and I'm glad the fine folks at
Rain Taxi
put so much work into bringing us all together.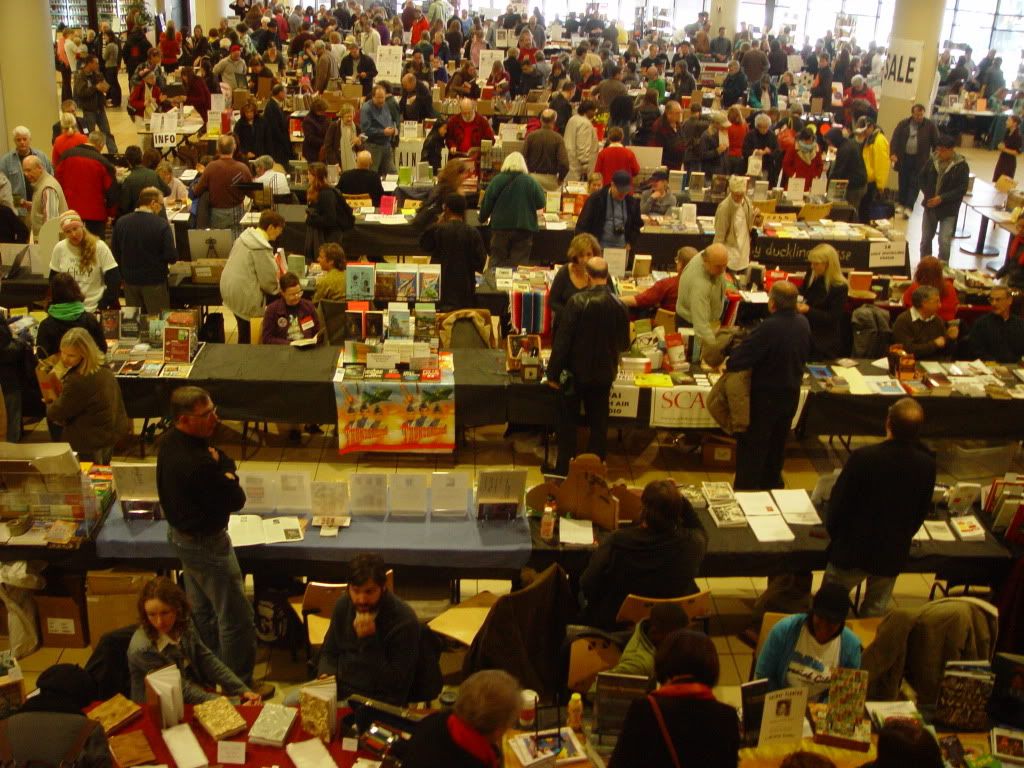 This year it was held on Saturday, October 10th, and thankfully didn't conflict with the Arcana convention, which I never miss if I can help it. The Twin Cities Book Festival did conflict with the FALLCON comic book convention and Gaylaxicon and a book release but that's to be expected. October is always very busy in Minnesota.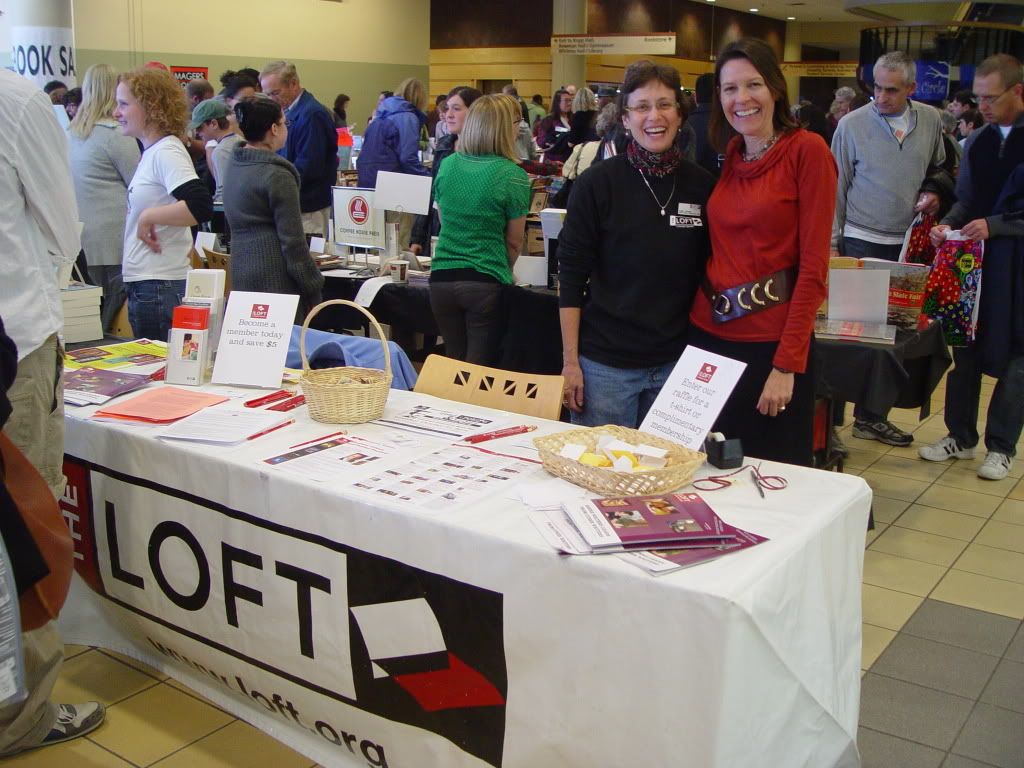 I'm probably in the minority, but I think the Festival could learn from the myriad science fiction and comic book conventions flourishing here.
One day, I really want to see 'Festive!' brought to the proceedings, and not just one big ol' "Swap-n-Greet!" literary flea market. This should be a vibrant celebration of books and reading, unleashing a fearsome yawp, not some morbid zombie shuffle of literary bow-ties. Although, I imagine more readers dressed as zombies here would enliven things a great deal.
During the festival, I ran into many good friends and colleagues like radical mail artist Tom Cassidy (who I'll be reading with at the Open Book soon), Tim Nolan, Joyce Sutphen, Wendy Brown-Baez, my good pals at
Whistling Shade
and of course, the
Loft Literary Center
.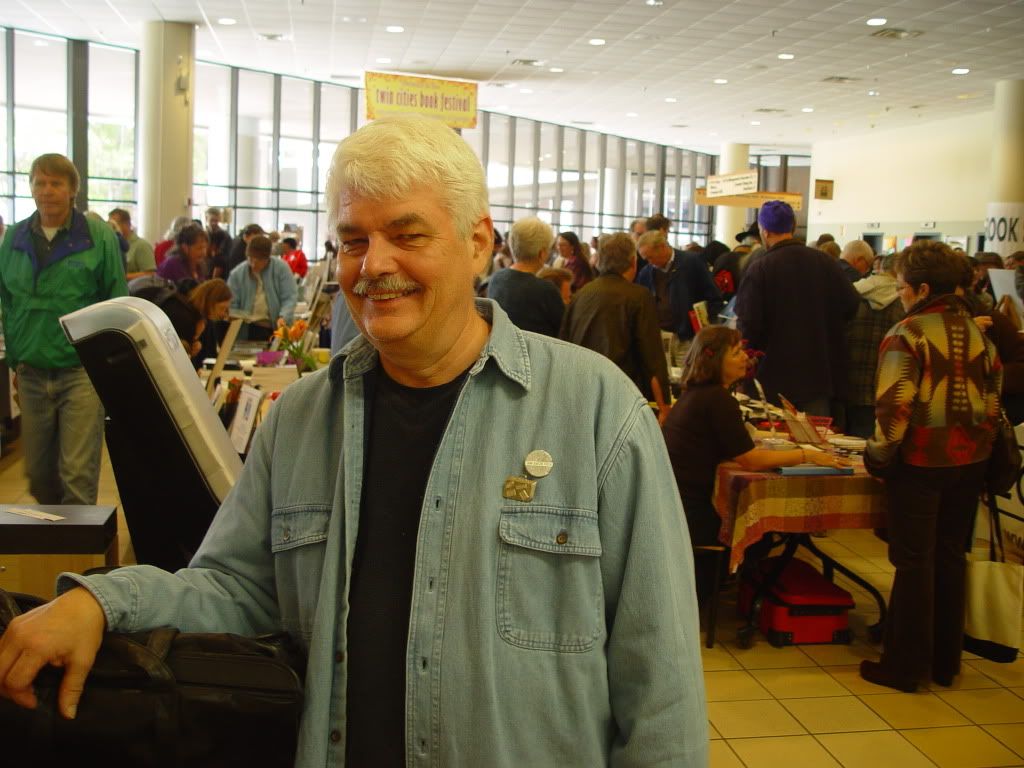 I don't see why, in October, with Halloween just around the corner, we can't encourage costumes for people arrayed as their favorite authors, a fun mascot like Sir Booksalot or host an avant-garde literary project where everyone could be a page of a living, moving book milling about the floor. Although, with that, I imagine it could get quite maddening: 'Where'd Page 18 wander off to? Page 17 was too much of a cliff-hanger!'
Well, maybe another year.
And remember, we ARE in the middle of a great
literary scavenger hunt
right now, with some very cool prizes for participants. Be sure to play!
So, what were the big highlights for me?
The standout book of the Festival to me was Sid Gershgoren's wonderful Extended Words: An Imaginary Dictionary

published this year by Red Dragonfly Press.
Imaginative, literary and innovative, my friends and I are already having fun searching for new words to use. One of the best blurbs about it is by Arthur Goldbarth:
"Imagine that our first (and last and best) dictionary had been co-compiled by Dr. Johnson and Jorge Borges, with Italo Calvino showing up to lend the odd bit of advice. Or that it had been planned by Freud and Einstein as they conducted their Australian aboriginal walkabout through the "dreamtime." Or. . . well, what more can I say? Drop your quandio (see under "Q"), and read this mesmerizing multidimensional book!"

An apt description. It's not for most people, but I like innovative language games with humor. I expect I'll spend a good part of the year having fun with it. It's a very energizing work.



Another book that piqued my curiosity was Christopher Valen's The Black Minute from North Star Press, a mystery hinging around the murder of a Hmong woman on Harriet Island. I haven't had a chance to read it yet, but the subject matter alone intrigues me. Will it be like those awful Chicago Hope/Gray's Anatomy episodes, or might it actually be handled well?

Other highlights included a nice conversation with the folks behind Turtle Quarterly, a literary journal that started last year. Its new issue is coming out on Sunday, October 25th with a launch party at The Coffee Grounds at 1579 Hamline Avenue in Falcon Heights from 4-6PM.

Big Brain Comics also gave me a good lead for future spaces writers and artists may want to hold events at: The West Bank Social Center at 501 Cedar Avenue S. in Minneapolis. Thanks, guys. I look forward to seeing how the space works out for our artistic community! :)