I think one of the less-discussed scenes in speculative poetry are the Asian American contributions of the 20th and 21st century. As I get ready to discuss the subject of speculative poetry and writing with students at St. John's University next week, it seems appropriate to look at some of the compelling figures who are making Asian American speculative poetry happen, such as
Lee Ann Roripaugh
.
Lee Ann Roripaugh is the author of three volumes of poetry:
On the Cusp of a DangerousYear
, Y
ear of the Snake
(2004 Association of Asian American Studies Book Award winner), and
Beyond Heart Mountain
(1998 National Poetry Series selection).
Roripaugh is a Professor of English at The University of South Dakota, where she is the Director of Creative Writing, and Editor-in-Chief of South Dakota Review. Over the years, Roripaugh has racked up several distinguished awards and recognition that include a Bush Artist Foundation Fellowship and the 1995 Randall Jarrell International Poetry Prize, and as we look at her body of work, it's easy to see why.
When we look at
Beyond Heart Mountain
, we can see how Roripaugh drew upon her heritage and her experiences to create a series of poetic portraits of Japanese American internees who were held at the Heart Mountain Relocation Center in Wyoming. Would some of these be considered speculative poetry under the conditions many are used to expecting?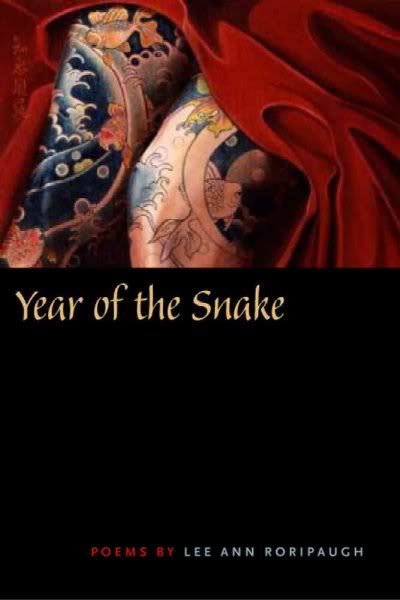 The line is a little more clear in her book,
Year of the Snake,
where she goes on to use poetry to address mixed-race identities as well as the myths and fairy tales of Japan, and metaphors of transformation. These are definitely the subjects of speculative poetry, but they also fall under what some think should be classified as slipstream literature. You can see an example of this style in her poem
Dream Carp
, which I admit, I find can be read both as speculative poetry and not. Others may disagree, but I think the argument can be easily made, either way.
Some might dislike the vagaries and whether a book like
Year of the Snake
should be considered part of the greater canon of speculative poetry, but I would think that it is precisely because
Year of the Snake
gets us to ask these questions that it should be considered and appreciated for the way it broadens the depth and potential of this corner of the poetry world.
Speculative poetry is not all she writes, any more than Asian American poetry is not all she writes, but when she does write it, I would personally insist she be recognized for it. But in any case, I'd recommend you take a look at it. There's some powerful verse here.