A little over a year ago, I backed a scrappy indie game company's kickstarter:
Redshirts Deluxe Edition
, a "lighthearted game of space exploration, betrayal and murder."
It finally arrived this month, and so far, I've been delighted with it. The team at Weaselpants Productions put a lot of love into the game, which, thankfully is fun to play. (In this industry, it's great when those two elements come together.)
I used to love the old role-playing game
Paranoia
in the 1980s, so the humor of
Redshirts
was right up my alley.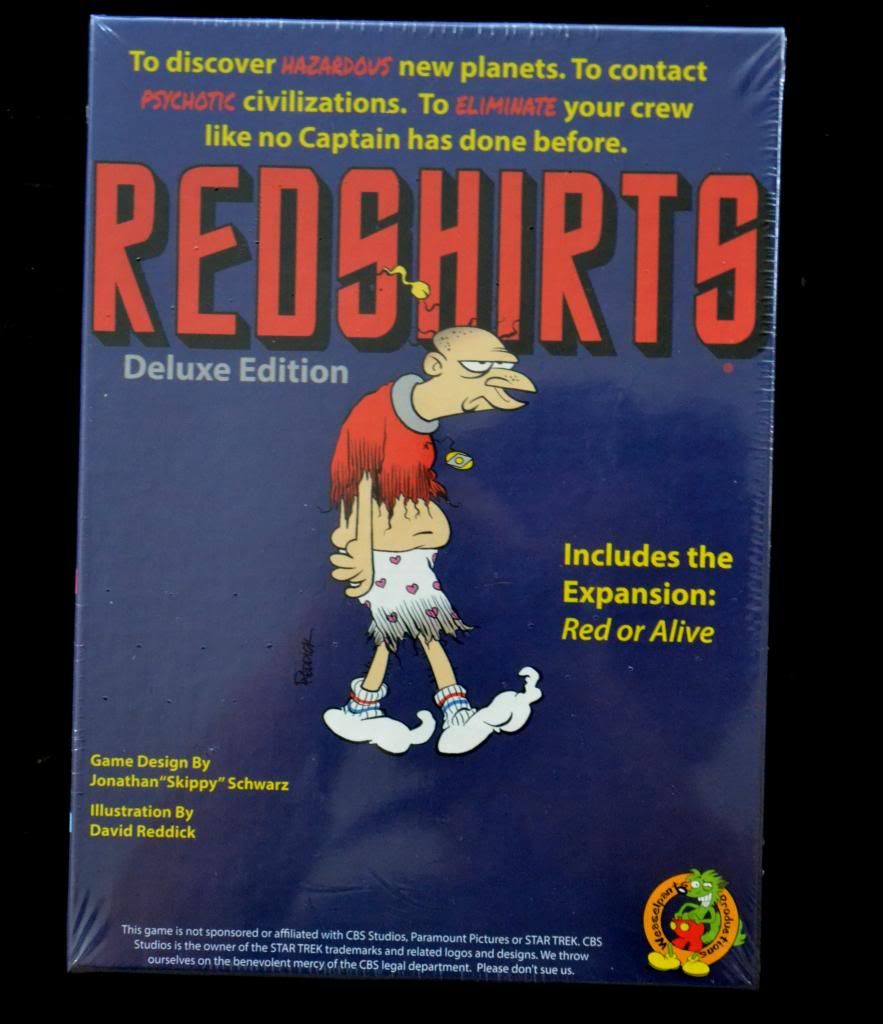 As one might expect, it's filled with nods to many popular science fiction shows of the last century or so. (Safely within the protected realm of parody! We swear!)

It's easy to understand the rules, set-up, and then get down to the business of bumping off your crewmen while preventing others from bumping off theirs. It's up there with Kill Dr. Lucky as a great, solid game that plays quickly with a lot of laughs.

Thankfully, it arrived just in time for the holiday season so this will keep me and the nieces and nephews very, very entertained. Although in the first test-runs, it seems they went out of their way to kill off their uncle. I'll have to keep an eye on them in the future, clearly.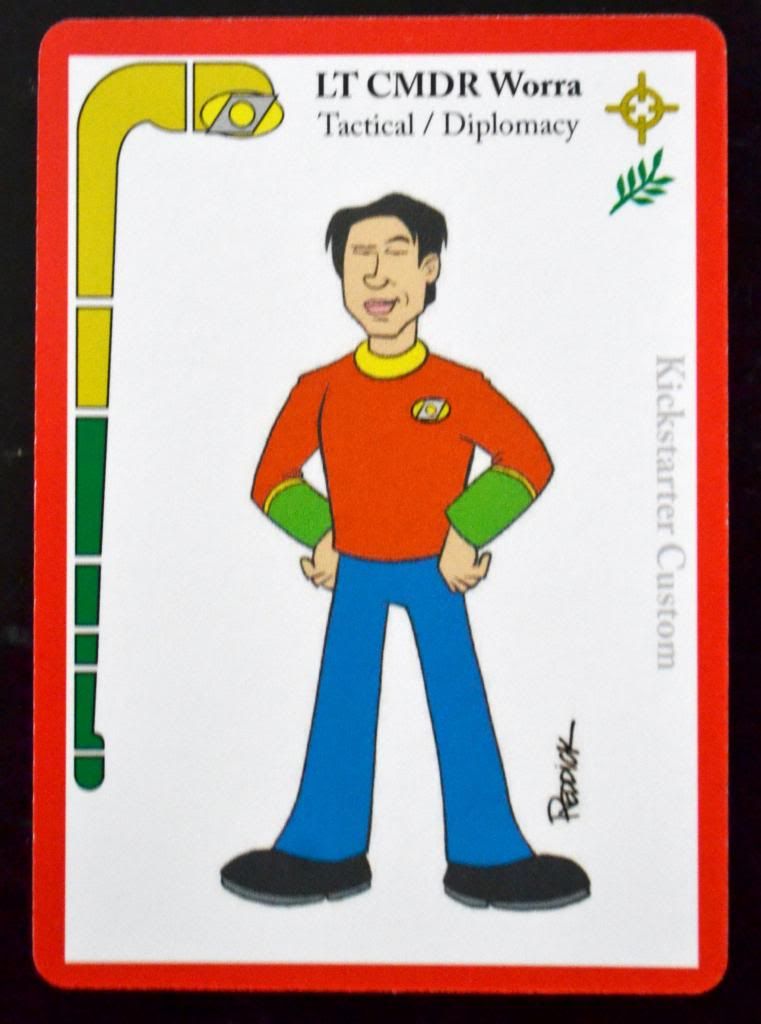 I backed it at the Lieutenant Commander level, which means this also sets a neat precedent: It's the first space card game to feature Lao American characters. (
Horror on the Orient Express
from Chaoisum will also feature a certain Lao American poet you can play as you face dark cosmic horrors, but it's still in production, and will probably arrive next year.) Besides myself, Dr. Ketmani Kouanchao also appears as a bonus card. We're still debating who gives you better benefits on an away mission.
Granted, you'll be working overtime to bump us off, but hey, everyone's getting bumped off here.
The art was done by the award-winning David Reddick, who brought a great sense of humor to the project. He is the creator of various popular comic strips such as "Legend of Bill," The Trek Life at CBS/ STARTREK.COM, Gene's Journal and Rod & Barry at Roddenberry.com. He is also a full-time cartoonist at Paws, Inc., where he works on the Garfield worldwide property.
I also encouraged them to add in the dreaded Astronecronomicon and the Alien Poetry Slam, naturally. And to include a helpful robodachshund modeled after my dog Sadee. These particular cards are only available to a certain backers who participated in the kickstarter, and not the main edition you'll find in the stores right now. But who knows. Maybe next edition.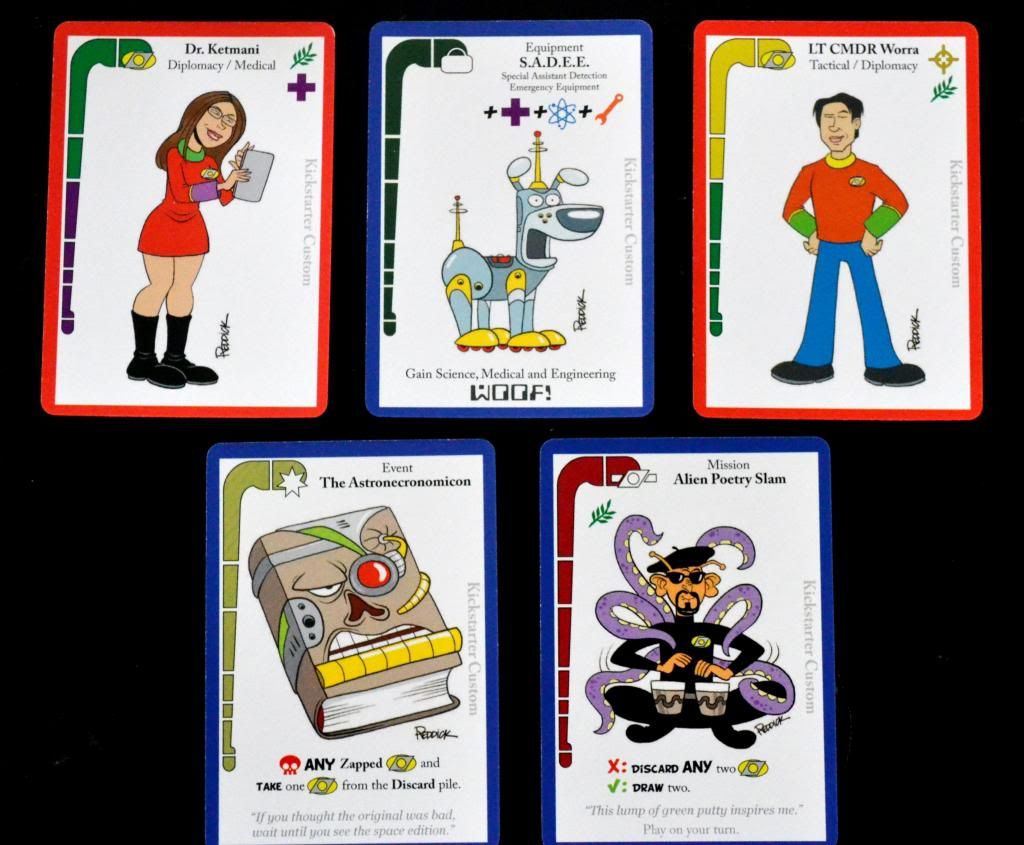 Overall, a big thanks to Skippy and David Reddick for making this a fun experience, and I'd certainly back other projects of theirs in the future. Now, back to our regularly scheduled zaniness.