Among the most well-known of the Lao American visual artists working today is the award-winning
Malichansouk (Mali) Kouanchao
.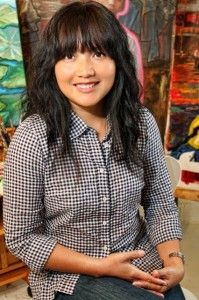 Born in July, 1971, she is a Minneapolis-based visual artist, web and interactive designer, and like many of the leading contemporary artists with a Lao heritage, her family comes from Savannakhet. Her multidisciplinary works typically explore the relationship between art, transformation, and communal healing. Her life served as the basis for the 2010 children's book
Mali Under the Night Sky
by Youme Landowne.
She serves on the advisory committee for
Legacies of War
, a national project established to raise awareness of the Secret War in Laos, as well as to advocate for further U.S. support toward the removal of cluster bombs and increased aid for cluster bomb survivors. She believes "public art should empower the maker and educate and transform the community."
The Kouanchaos resettled in Minneapolis, Minnesota in 1979. At the time, she came with her parents and four siblings as refugees from the Laotian Civil War. In the 1980s, she attended South High School in Minneapolis. She attended the University of Minnesota pursuing a BA in 1998 in Fine Arts, with minors in Chinese and East Asian Studies. She continues to live in Minneapolis today.
She is among the first of Lao American artists to receive funding and support for her art from institutions such as the Minnesota State Arts Board, the Metropolitan Regional Arts Council, the Bush Foundation and the Jerome Foundation. Her work is greatly in demand, and it is hard to find examples of her early output from the 1990s and early 2000s. However, you can still find many of the murals and mosaics she has worked on, including
Hand to Heart
,
Harmony
,
People
,
Places
,
Connection
,
Integrity
,
Sol y Mariposa
, and
Faces of the Future, Reflect Our Past.
As a poet, I work with her on many occasions, including the
5 Senses Show of Hmong and Lao Artists
,
Lao'd and Clear
, and
Legacies of War: Refugee Nation
Twin Cities
among other projects. Her work has demonstrated some intriguing ideas and approaches that I always look forward to seeing.
In 2010 she received an Asian Pacific American Leadership Award from the Council on Asian Pacific Minnesotans for her work as a visual artist.She also received an Excellence in Visual Arts Award from the 2010 Lao Artists Festival in Elgin, Illinois. Kouanchao is the last Lao American to ever receive a Bush Artist Fellowship. Before they stopped being awarded, the fellowship was one of the largest artist fellowships in the country from a private foundation. Savannakhet weaver Bounxou Chanthraphone is the only other Lao American to have ever received the honor.
Her latest project has been her series
Displacement: Never Free,
which examines the lives of Cambodian and Southeast Asian American deportees and the impacts of US policies on their families. Kouanchao also created the series
Living Spirits: Collateral Bodies
incorporating traditional Southeast Asian spirit houses and paper lanterns with modern photographic techniques to examine social and political issues.
Mali Kouanchao also has become well known for popularizing Lao beef jerky through her brand
Cool Jerk
. It has been well received at music festivals, conventions, and community events across the US, thanks to her entrepreneurial spirit. She is also doing work in the speculative arts, preparing a new venture called WizardFantasy.Com, although it remains to be seen how this will be implemented.
Recently, she and the renowned design studio
Burlesque of North America
created a new app called
Mighty Match
based on the classic game memory. they wanted to create an app that fun for kids and adults alike to teach the letters of the alphabet, as well as fruits and vegetables. The app features original music created by the acclaimed DJ
Mike 2600
.
You can visit her online at
http://djai.net/mali/