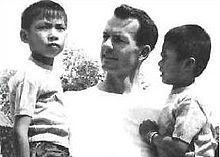 There are a number of books that emerged from the Lao experience which are starting to pass out of circulation.

One is Farrar, Straus & Giroux's 1968 book The Night They Burned the Mountain by Dr. Thomas A Dooley III, which as a first-hand account still has some significant value for those writing and studying the Lao experience of the 20th century.
Thomas Anthony Dooley III (January 17, 1927 – January 18, 1961) was an American who, while serving as a physician in the United States Navy and afterwards, became increasingly famous for his humanitarian and political activities in South East Asia during the late 1950s until his early death from cancer.
Before his death, he authored three popular books that described his activities in Viet Nam and Laos:
Deliver Us From Evil
,
The Edge of Tomorrow
, and
The Night They Burned the Mountain
.
The description for
The Night They Burned the Mountain
says:
"Thomas Anthony Dooley III (1.17.27 to 1.18.61), called Tom, was a Naval doctor, humanitarian and author. He was also suspected of being a CIA agent, accused of being homosexual and given the Congressional Gold Medal posthumously by JFK. His nickname was the "Jungle Doctor," and many believe his efforts in Vietnam and Laos in part inspired the idea of the Peace Corps. "The Night They Burned the Mountain" was his third book. He wrote about MEDICO's (a medical relief program) founding and his struggle against cancer while helping the sick in Laos."
Dooley's legacy continues through the work of the
Dooley Foundation-Intermed International
, which has carried on the work of Dr. Dooley for the past 50 years. Its headquarters are based in New York City.
A scan of Amazon today shows there are approximately 8 copies available, ranging from $8 to a collectible version at $175. You might want to pick up a copy if you have an interest in this era.
What are some of your memories of Dr. Dooley?