This month for
Asian American Press
, I interviewed several artists and writers, including Japanese American activist and artist
Patrick Hayashi
:
I like his technique and approach to both arts and change in the community. One of my favorite paintings of his is
Tsuru and Aka Bekko
. The encounter is charming in itself, but the backstory behind it is even more poignant. I think this is definitely one of his masterworks.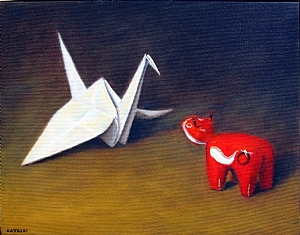 There's really no shortage of great books of his to start with, but his latest one is
Requiem for the Orchard.
I particularly appreciate the work he's doing on what we might consider speculative literature with his latest project involving prose poems and the myth of Theseus and the Minotaur. I can't wait to see his final results, as this is one of my favorite Greek legends, right up there with the myth of Oedipus and the Sphinx as well as the kerfuffle between Cadmus and the Serpent of Ares. Be sure to stop by his blog at
www.oliverdelapaz.com
Edward del Rosario's work is the kind where I'm always finding something new and interesting within individual elements as well as the whole, such as in his
Aventuras II
. Since running into his work, I've been examining a good number of my own poems as a result.
And of course, don't forget to check out
the interview
with Filipina American poet
Barbara Jane Reyes
at the end of September. She's one of those rare artists where I think it's important to interview her at several different points in her life. I'd first interviewed her in 2006, and now, 5 years later, she's continued to share some great ideas and visions in her work that's at varying times ornery, insightful and innovative.
A big thanks to these great artists who shared their time with us, and I look forward to seeing more art ahead from them!