Crossing space and time, the
H.P. Lovecraft Film Festival and CthulhuCon
will warp into the Warner Grand Theatre in San Pedro, CA from September 27-29th.
One of the artists we'll be joined by is
Rick Kitagawa
, who will be coming all of the way down from the horrifying shadows of San Francisco. He'll have a number of macabre works on display and for sale to the fearless connoisseur. A painter, illustrator and storyteller, you can find his work at
http://www.rickkitagawa.com
Tell us a little about yourself. How did you get started on all of this? What was one of the hardest things for you to learn as an artist?
My name is Rick Kitagawa, and I'm a San Francisco-based visual artist, storyteller, screen printer, and general supporter of the Dark Arts. I got started creating monsters at the ripe age of 3 with crayons and old dot matrix printer paper (the kind with the little perforated sides..oh wait, these were like twenty-five years obsolete now..), and went through my early childhood. I ended up quitting art for a bit to focus on academics and ended up getting a bachelor's degree in Integrative Biology at Miskatonic's satellite campus in Berkeley, CA. After graduating, I had a terrible desk job and decided to go back to school to pursue art, and after three years of learning how to draw/paint/print, I now fully embrace my identity as an artist.
The hardest lesson to learn for me is that no matter what it is, to really succeed in something you have to put in your 10,000 hours of work. Hopefully whatever it is you're trying to do is fun so those hours go by quickly, but I believe that life is 98% hustle and about 2% natural aptitude for something. Also, there are no such things as overnight successes, so that was both super hard (What? I can't just have life handed to me on a silver platter?) and encouraging (Everyone can do it? That means me as well?) to learn.
What's your favorite H.P. Lovecraft story?
My all-time favorite Lovecraft story is probably
"The Rats in the Walls."
I was going to say
"The Shadow Over Innsmouth,"
but everyone else probably already chose that one, since it's such the foundation of so much of the mythos. However, "The Rats in the Walls" has the whole thing of cannibalism, and pig-things, and it's just creepy as all hell.
What's been your favorite creation so far? What was the most unexpected surprise you've found when making these creations?
My favorite creation thus far is probably a live-sized coffin painting. It's this creepy mummy-ish wraped vampire woman who is missing an eye and is floating in the coffin (which is also painted on a custom-stretched canvas in the shape of a coffin). It was my first life-sized painting, and I thought it turned out pretty awesome. Other than that, I also really like this heart sculpture I made that's suspended in this wooden display by thread and arteries and veins. I'm bringing that one down to the Fest, so be sure to stop by my table to check it out.
My most unexpected surprise was how much failed screen printing photoemulsion can give that perfect texture to a human heart sculpture.
What other themes do you like to work with in your art?
Thematically my work pretty much hits upon the same things over and over again. Cannibalism, monsters, strong female characters (whether as human or demons), the interplay between text and image, and the ever-so-Lovecraftian question "Who are the real monsters?"
What's a project you really hope to take on in the next few years? Where do you hope to go from here?
I'm really hoping to get another interactive gallery show going. I had a show a few years ago where I painted a series of portraits (and a few monsters) and created an entire puzzle where the clues were woven through the paintings as well as short "interviews" with the subjects of the portraiture. The viewers at the opening were tasked with solving "The Secret of Deadbrook" and determining what actually happened. I actually created an online version of the gallery (although I'm a bit embarrassed by the art quality) which you can find here:
http://www.rickkitagawa.com/deadbrook.html
To further answer the actual question, I hope to create another blend of storytelling, game design, and art in the next year or so, and to hopefully continue to do so the rest of my career.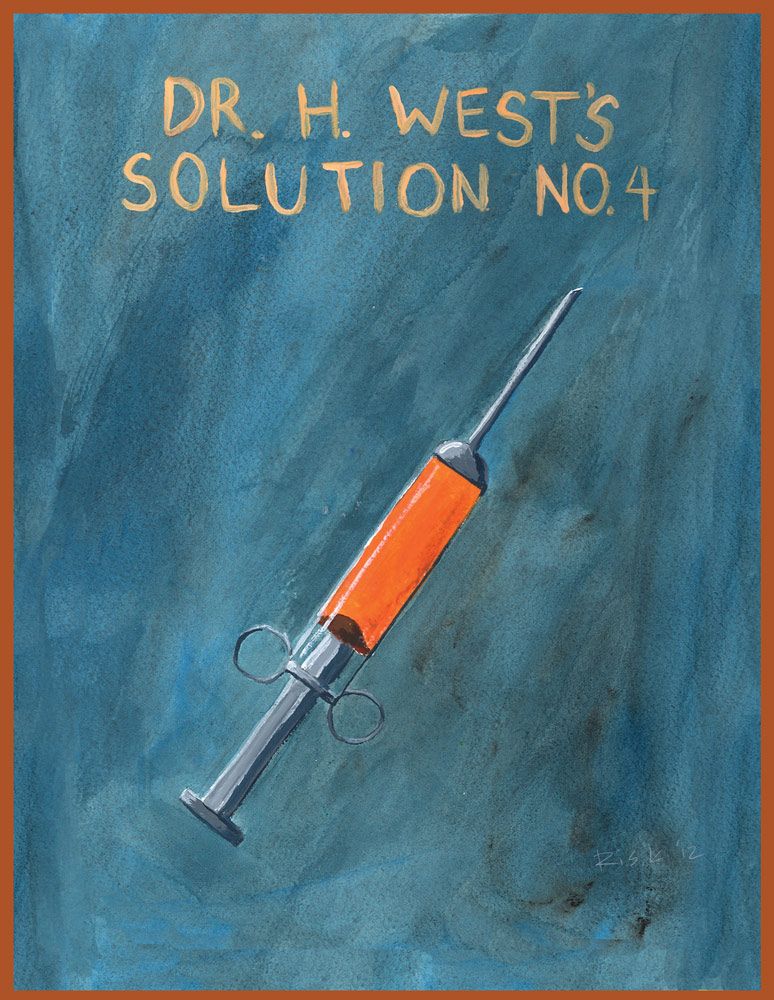 Where else can we find you throughout the year?
You can generally find me up in the San Francisco Bay Area teaching art demos at stores, printing shirts via my t-shirt printing company
The Lords of Print,
or vending at shows like
The Alternative Press Expo
.
What's your favorite music to listen to as you create your art?
To be totally truthful, I don't really listen to music when I paint, but if I did, it would probably be a mix of 90's Alternative Rock mixed with contemporary indie rock (I know! I'm like the only horror person on the planet that doesn't listen to metal!). Sometimes, however, if I really need a kick, I have this old gramophone record that only has a faded label where the only legible thing is "..Zann"
Be sure to stop by and say hello to Rick Kitagawa at the H.P. Lovecraft Film Festival and CthulhuCon in Los Angeles this month or visit him online at http://www.rickkitagawa.com