Are you ready for the
H.P. Lovecraft Film Festival
approaching the threshold of the rational world once more? At the Warner Grand Theatre in San Pedro, CA from September 27-29th, we'll be witness to many amazing artists who are daring to interpret the mind-blasting cosmic horrors of H.P. Lovecraft.
One of those artists is D.H. Covey, a Automatism Surrealist painter and motion picture storyboard artist. He is a graduate of The Maryland Institute of Fine Arts and moved to Hollywood in 1997 to work with Brian Yuzna on the movie
Progeny
. This led to more work on over 20 motion picture, video and TV projects. Both of his children attend Cal Poly Pomona. Michelle is a Fine Arts major, and Adam is a Mechanical Engineer. His wife Deby, a Technical Support Manager for GXS, is also his business and operations manager. We had a chance to talk with him about his work, and how he keeps reasonably sane in this crowd.
Tell us a little about yourself. How did you get started on all of this? What was one of the hardest things for you to learn?
I was born and spent my childhood in Appallacian mountains of Southern Virgina. I met my wife in Blacksburg, VA, while she was attending Virginia Tech. We moved to the Maryland/ Washington D.C. Area after her graduation, where our two children were born. I graduated from the Maryland Institute of Fine Arts. I met Brian Yuzna at a New York City Fangoria Convention, where he offered me a job as a storyboard Artist in Los Angeles.
I was born with an artistic desire, and even before starting school, I remember storyboarding movies that I saw on TV. The hardest thing I've ever had to learn was patience.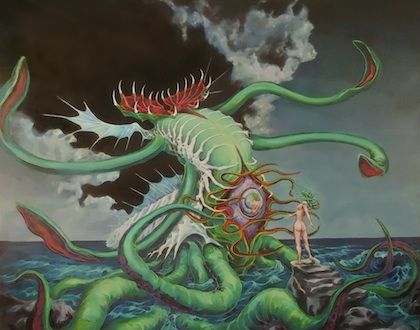 What's your favorite H.P. Lovecraft story?
My favorite Lovecraft stories are "The Dunwich Horror", "The Shuttered Room", or "Whisperers in the Darkness".
What has been your favorite creation so far?
I can't say that I have a favorite, but usually whatever I am working on at the moment is The most important piece.
What was the most unexpected surprise you've found when making these creations?
How much better a piece of work becomes once I allow myself to stop Thinking about the creation, and let it happen. To go with instinct rather than intellect.
What other themes do you like to work with in your art?
Abstract Surrealism and Assemblage art.
What's a project you really hope to take on in the next few years? Where do you hope to go from here?
Do I actually want to reveal that at the moment? It's Interactive Art objects that can be functional and utilized by the observer.
Where else can we find you throughout the year?
One would have to check my website for professional events and dates, but I do a lot of planned and unplanned travel throughout the year. I just returned from a week of camping in Point Mugu, and Alaska the month before that. In the next few months, planned trips are New Orleans, the Washington D.C. Area, and South Dakota for the Sturgis Motorcycle Rally.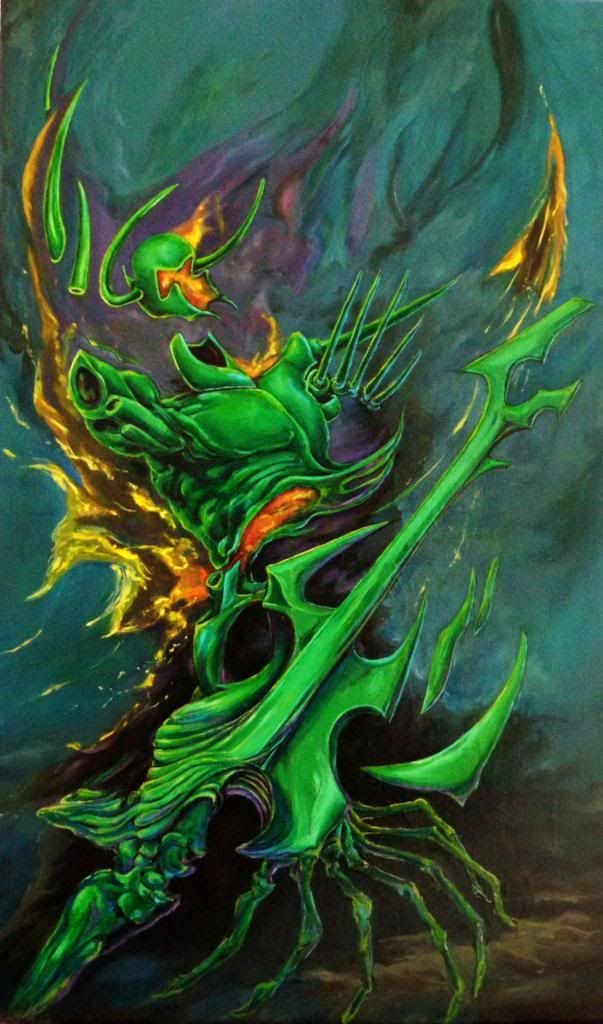 What's your favorite music to listen to as you create your art?
It varies depending on the project. Recently, I have been listening to a lot of later Alice Cooper and Fuck Buttons. Sometimes it's Motion Picture Scores or even The Glen Miller Band. My old standbys are Front 242, The Clash, David Bowie, and The Talking Heads.
Be sure to say hello to D.H. Covey at the H.P. Lovecraft Film Festival this month. If you dare!