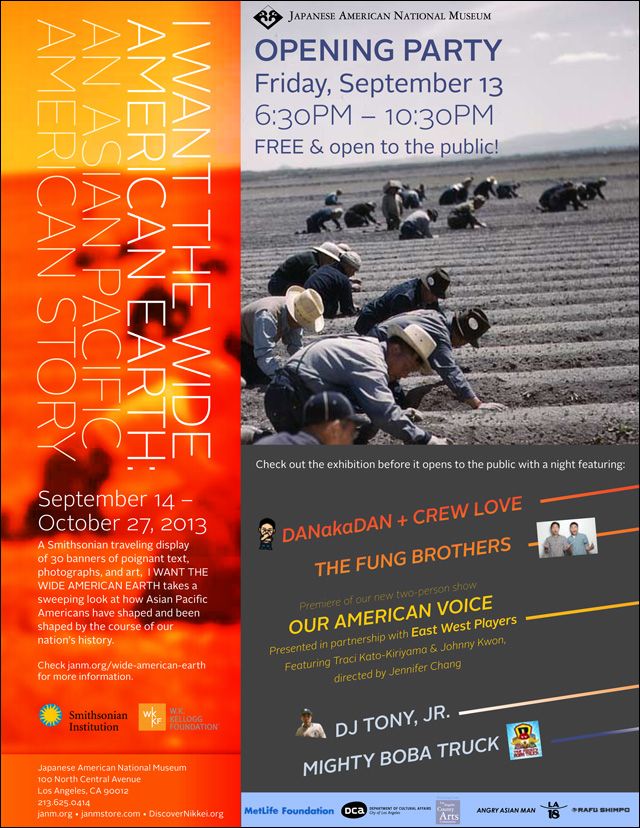 If you're in Los Angeles, Friday, September 13th is the opening party for the national tour of
I Want the Wide American Earth: An Asian Pacific American Story.
The first stop is the Japanese American National Museum in Little Tokyo. Created by the Smithsonian Asian Pacific American Center, the exhibit will be running in Los Angeles from September 14 through October 27.
A banner exhibition, it will provide a sweeping look at "how Asian Pacific Americans have shaped and been shaped by the course of our nation's history."
The party goes from 6:30PM – 10:30PM at the Japanese American National Museum found at 100 North Central Avenue in Los Angeles
.
The exhibit is FREE and open to the public. The night will feature comedy and music from YouTube stars DANakaDAN + CREW LOVE and The Fung Brothers. It will also premiere a new two-person show, Our American Voice, presented in partnership with East West Players. Plus, DJ Tony Jr., the Mighty Boba Truck, and Aloha Cafe will be there.
You'll also get to see a poem from a certain Lao American poet included in this exhibition
, which was previously featured at the National American History Museum.