The
H.P. Lovecraft Film Festival
is fast approaching the Warner Grand Theatre in San Pedro, CA. Innumerable horrors will descend there from September 27-29th. You won't want to miss it! Among the artists in attendance will be Necro-Sapien Press.We had a chance to talk with Justin White this month about how it got started.
Tell us a little about yourself. How did you get started on Necro-sapien Press? What was one of the hardest things for you to learn?
I started Necro-Sapien Press in 2005 while attending school for my graphic design degree. I had been helping out a friend of mine who sold mainly vintage video games, vinyl and toys at local conventions just helping him set up and run the booth. So at one of the shows I decided to get a table next to his, make some prints of a few pieces of my art and see what happened. Well it went really well and I haven't looked back since. In 2009 I teamed up with indie publisher Forbidden Panel and illustrated the first installment of their flagship book "ZKS: Zombie Kill Squad" which was written by AJ Herrera. We had a blast doing that so I continued working with AJ and FP eventually becoming a partner in the company and their art director.

One of the hardest things I had to learn doing art professionally is when to just finish a piece and walk away from it. It's tempting to scrutinize every detail and try to reach perfection but then you have to realize that is impossible and you will drive you self crazy, not to mention never have anything done in time for the next show. And sometimes it's those imperfections that really draw people to your work.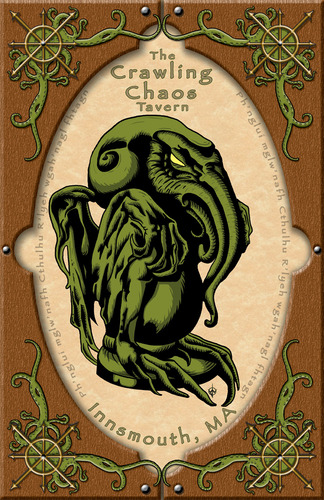 What's your favorite H.P. Lovecraft story?
This is a hard one because I always have a new favorite. I have a huge soft spot for "Call of Cthulhu" because it was the first one I read in high school and I remember thinking "Damn, this is creepy as hell" so I started reading all of his work. I am also a huge fan of "A Shadow Over Innsmouth" mainly because of the amazing atmosphere he creates in it. When you're reading Innsmouth you can almost smell it and taste the salt water in the air. That's what I love about his work, the powerful feeling of dread and heavy atmosphere he creates.

What was the most unexpected surprise you've found so far when journeying into the land of publishing?
The biggest surprise to me is how supportive other creators are. Coming from a graphic design back ground where everything is so competitive I was expecting the same with comic book artists and illustrators but that wasn't the case. Every one, from fellow self publishers to established professionals, has been really honest and helpful. It was great to meet guy's who I used to stand in line to meet at Comic- Con in the 80's and have them be very welcoming and supportive. It's a great community and we get to have little reunions at every show.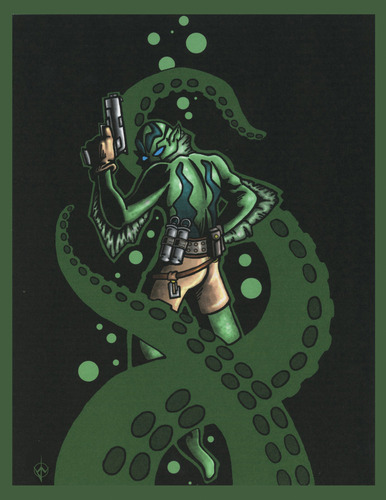 What are some of your favorite themes you like to see authors address, in your work and in others?
I like to vary the themes of my art and writing as much as possible, mainly so I don't get bored with myself. But of my favorite ideas to play around with is that monsters come in many guises and they don't necessarily look like the one you thought was the monster. I think this stems largely from when I was about 6 or so and saw the original Frankenstein for the first time and later when I got into Clive Barkers work. In books like "The Hellbound Heart", "Cabal" and "Frankenstein" the monsters were not the bad guy's they were either the victems of or summoned by humans and I guess I always connected with that. I've always liked the idea that the things that are truly evil are safe and normal looking and the scary, grotesque things are the good guys.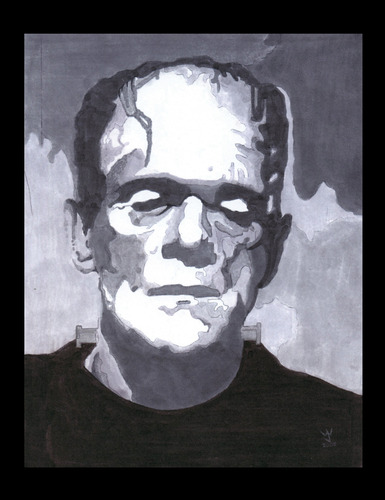 What's a project you really hope to take on in the next few years? Where do you hope to go from here?
The next project I hope to tackle next is my illustrated novella "The Ghosts of War" the first in a series featuring my occult private detective Maxx Cash. I've completed about 3/4 of the first draft of the writing then I'll begin the illustrations. I've been working on this story for a couple of years and really hope to have it completed by next fall. I will also be releasing a short comic book story called "The Mask of Devouring". It's a medieval fantasy/horror story about a lustful cleric and an evil artifact. It's part of a fantasy universe I've created and I hope to have a few of these stories done sometime next year. I will also be finishing up the last two installments of "Zombie Kill Squad" for Forbidden Panel.

Where else can we find you throughout the year?
Throughout the year you can find me at several different conventions and art shows. I'm just about ready to wrap up the convention season for 2013 but I will be at the Bakersfield Comic-Con on September 22 and of course at the H.P. Lovecraft Film Festival and Cthulhu-Con September 27-29. I will also be participating in the 24-Hour Comic Book Challenge at Four Color Fantasy October 5th-6th in Rancho Cucamonga and at the 3rd Annual Zombie Beauty Pageant presented by Forbidden Panel at the Fox Theater in Redlands on October 27th.
What's your favorite music to listen to as you work on the press?
I get asked the music question a lot. I have quite a varied music collection. Everything from jazz to punk to classical to rockabilly to classic rock but I'm a metal head at heart I grew up on bands like Iron Maiden, Anthrax and Slayer. But when I'm drawing or writing I love to listen to movie soundtracks. My favorites are "Conan The Barbarian" by Basil Poledouris and "Hellraiser" by Christopher Young.

Thanks and I'll see you at the HPLFF this September!
You can visit Necro-Sapien Press online at
http://www.necrosapien.net
,
where they provide custom illustrations, concert posters, logos and more.