As a reminder, September begins the 12th season of Hemet's literary discussion group, DOING LITERATURE. The discussions are free and open to the public! Our first book this year is Raymond Chandler's
The Big Sleep.
DOING LITERATURE: SEASON 12
10:00 AM – 11:30 AM
Every 2nd Saturday at the Hemet Public Library
300 E Latham Ave, Hemet, CA.
Sept. 14th:
The Big Sleep
, Raymond Chandler
Oct. 12th:
War of the Worlds
, H.G. Wells
Nov. 9th:
Atonement
, Ian McEwan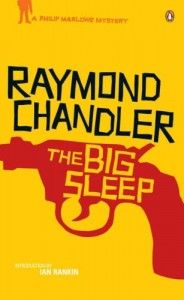 Raymond Chandler's The Big Sleep often appears on modern lists of the Top 100 Books, including lists by Time, Newsweek and Le Monde. Set in Los Angeles, California, it opens with the classic paragraph:
"It was about eleven o'clock in the morning, mid October, with the sun not shining and a look of hard wet rain in the clearness of the foothills. I was wearing my powder-blue suit, with dark blue shirt, tie and display handkerchief, black brogues, black wool socks with dark blue clocks on them. I was neat, clean, shaved, and sober, and I didn't care who knew it. I was everything the well-dressed private detective ought to be. I was calling on four million dollars."
The Big Sleep is an indictment of the heady cocktail of high society, drugs, violence and sex. It provides a searing account of the high price each of these brings to those waltzing with the dark side of California living.
It's a tale of a tainted paradise that rewards both the casual reader and anyone looking for some choice meat on their literary T-bone.
Chandler is rightfully praised for his crisp dialogue and cunning wit, and his labyrinthine plot. His work goes beyond that of the pulp mystery writers of his era with strong literary sensibilities and a sense of language and style that many attempt to imitate to this day. Not every plot twist is resolved neatly but it remains Chandler's magnum opus, showing what a detective novel can be.