Among the modern-day rivals to Richard Upton Pickman is Mike Dubisch, who will be joining us for the
H.P. Lovecraft Film Festival and CthulhuCon
in San Pedro from September 27-29th.
He has been bringing a Lovecraftian twist to his fantasy art, illustration and comics for a quarter century. He's created Star Wars and Dungeons and Dragons toys, animated DVD covers for the World Wrestling Federation, designs for animated movies, and characters for MTV.
His work is held in the permanent collection of The Museum of Cartoon and Comic Art. His Lovecraftian Graphic Novel WEIRDLING was published in 2007 to critical acclaim. Current projects include Zombies VS Robots:Diplomacy and Godzilla comics sketch variant covers, both for IDW, creature designs for film, including "Transcendent" for the 2013 Portland festival.
We had a chance to talk with him, and see where his twisted imagination is taking us all next.
Tell us a little about yourself. How did you get started on all of this? What was one of the hardest things for you to learn?
I discovered horror, oddly enough, though MAD Magazine- I became fascinated with the notion that the humor magazine had been an offshoot from the EC horror titles, and became obsessed with 1950's "pre-code" (before the comics code authority) horror comics. That led me to Stephen King, and King pointed me at Lovecraft. Oddly enough, it's the fundamentals I keep having to relearn. I have a tendency to want to jumpahead a step- Drawing before writing, rendering without properly constructing, placing figures before creating their environments.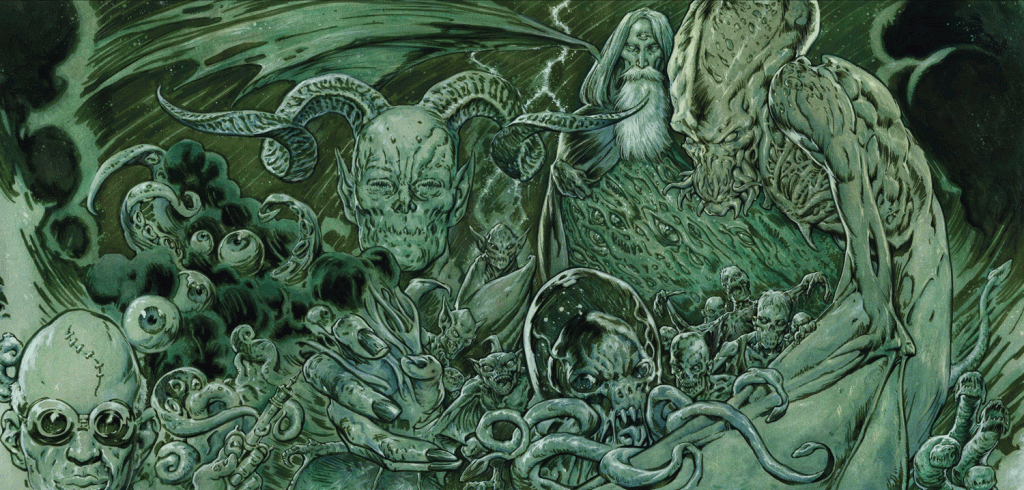 What's your favorite H.P. Lovecraft story?
"The Shadow Out Of Time." Still an influence and an inspiration. Just, to me, a perfect example of Lovecraftian ideas and storytelling.
What's been your favorite creation so far? What was the most unexpected surprise you've found when making these creations?
It kind of surprises me that I found a personal voice and theme in my writing. I play around with writing almost on a hobbyist level, secondary to my illustration. Yet I manage to occasionally script relevant, readable works in the graphic novel medium, and several authors confide in me regularly for input into their stories. So I guess, even though I am primarily known as an illustrator of games and an artist of the macabre, I remain most proud of the graphic novel and comic works, especially "Weirdling," the one shot "The Wet Nurse" and my contribution to the anthology "Bela Lugosi's Tales from the Grave" title "Order In/Take Out Chaos."
What other themes do you like to work with in your art?
Birth, growth, evolution, family, enlightenment and revelation, the human condition.
What's a project you really hope to take on in the next few years? Where do you hope to go from here?
I'd like to adapt something from the public domain into a graphic novel, especially if I can't get any of the many story ideas of my own that I have to spark. On that subject, I might like to work with some writers on some of those personal idea germs. I'd also like to do a really involved series of personal paintings, perhaps based on mythology or the tarot.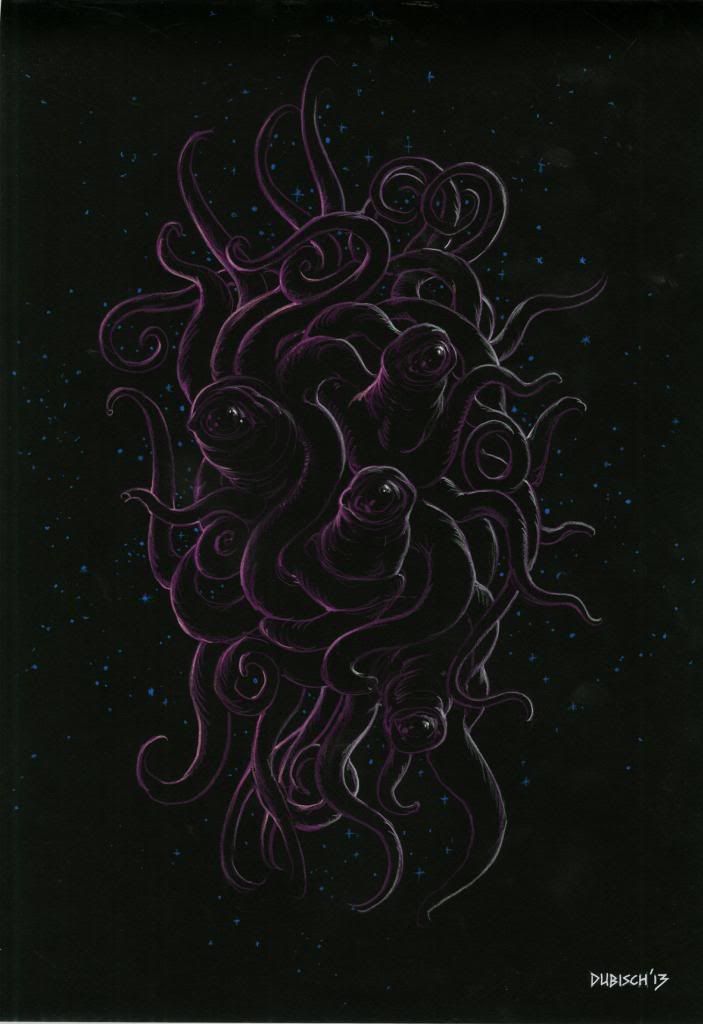 Where else can we find you throughout the year?
I am not doing many conventions these days. I can often be found here and there at San Diego Comicon, but I can't even guarantee that. I am focusing on my work and my job online teaching and class development at The Academy Of Art University. I can still be found on Facebook, MikeDubischArt and Youtube.MikeDubischArt and on the web at Dubisch.com
What's your favorite music to listen to as you create your art?
I usually prefer classical music, ambient music, or pure percussion based world music, but occasionally go on a female vocalist kick, listening to Susan Vega, Sinead O Conner, and P.J. Harvey, or a bit of an alterna-rock thing, with Janes Addiction/Porno for Pyros, 16 Horsepower/Woven hand and Sky Cries Mary.
Be sure to say "Ia! Ia!" to Mike Dubisch at the H.P. Lovecraft Film Festival and visit him at his website: http://dubisch.com/